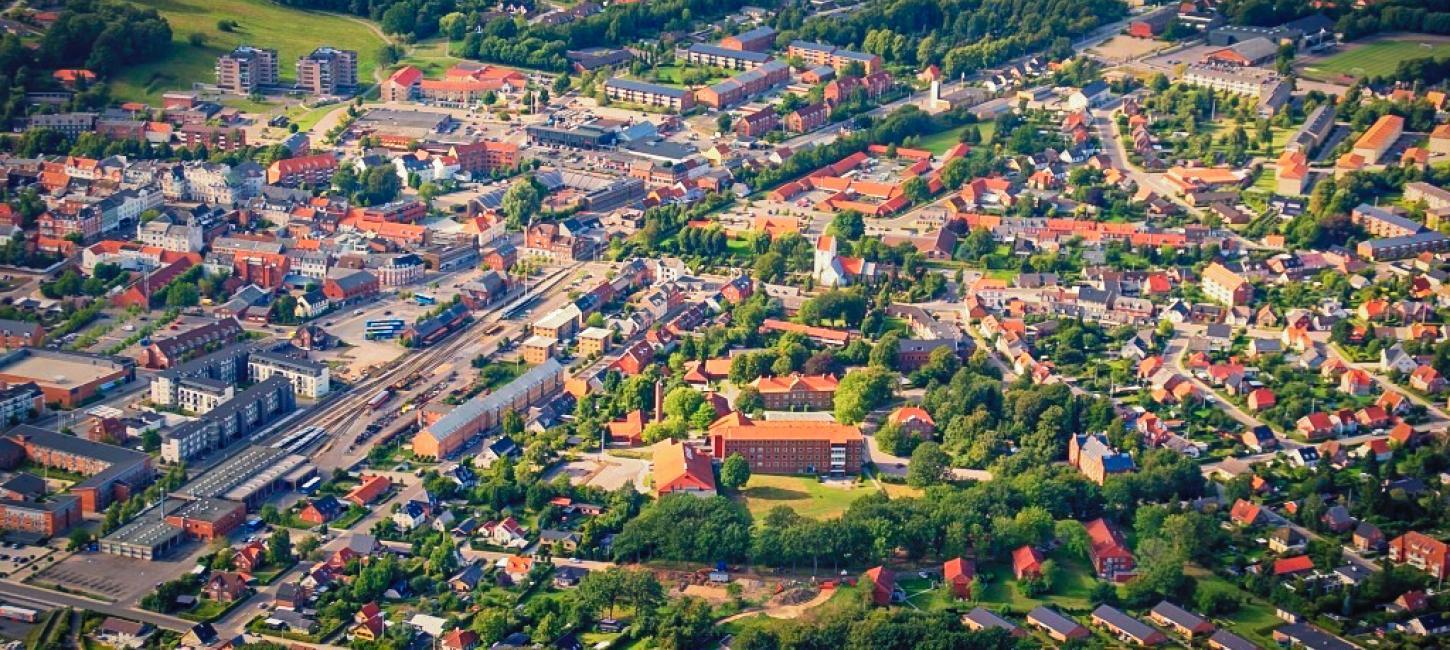 Take a town walk in Odder
Photo:
Destination Coastal Land
Odder is much more than a lovely station town. Here you can experience the tranquillity and roots of the town's small and sometimes hidden stories. Take an historic town walk and discover how past and present unite in the town streets.
This city tour in Odder is suitable for both short and long legs.
Start the tour at the Square.
Starting from the Square and the beautiful Central Hotel from 1907, you should pass by Odder Pharmacy, which can actually be dated all the way back to 1852.
Back then, the pharmacy was located where the Central Hotel stands today. The Square was not yet established - instead, it was a beautiful garden area. The first pharmacist was indeed a diligent gardener. The pharmacy moved to its current location in 1906.
Move on over Rådhustorvet to Aabygaden, where you can get a glimpse of the dome of the private observatory, built by Torvald Køhl, who was a private astronomer and pioneer in researching and disseminating knowledge about astronomy.
Then follow Nørregade to Nygade. Here – at the top of the many steps – you will find Odder's Reunification Stone, which was unveiled on Midsummer's Eve in 1922 to celebrate the reunification with South Jutland. The stone itself was found in the field of Snærild Fattiggård.
Enjoy the coffee from Madam Blå pots at Odder museum
Photo:Destination Coastal Land
The end of the splendour must, of course, be Odder Museum Odder Museum.
Here you can buy a good cup of coffee served in Madam Blå pots. You can also enjoy it on the grass somewhere in the area.
And cake is also a must, and it is fortunate that Fru Møller gets up early and bakes pretzel-shaped pastries for the museum. 
Tip!

The perfect photo spot
Are you going to take a memory home from a lovely day? The bridge over the duck pond is the perfect photo spot. Here you have both the pond and the old mill house in the background – it doesn't get any more idyllic than that.
Treasure hunt for the little ones
If you have the children with you, the town tour in Odder can be spiced up with the Odder Treasure Hunt, where you solve exciting puzzles together and learn about the town along the way. We even hand out a free custom-made medal to the youngest treasure hunters!
Spots to watch out for on the route
Watch as the mill grinds at Odder Museum