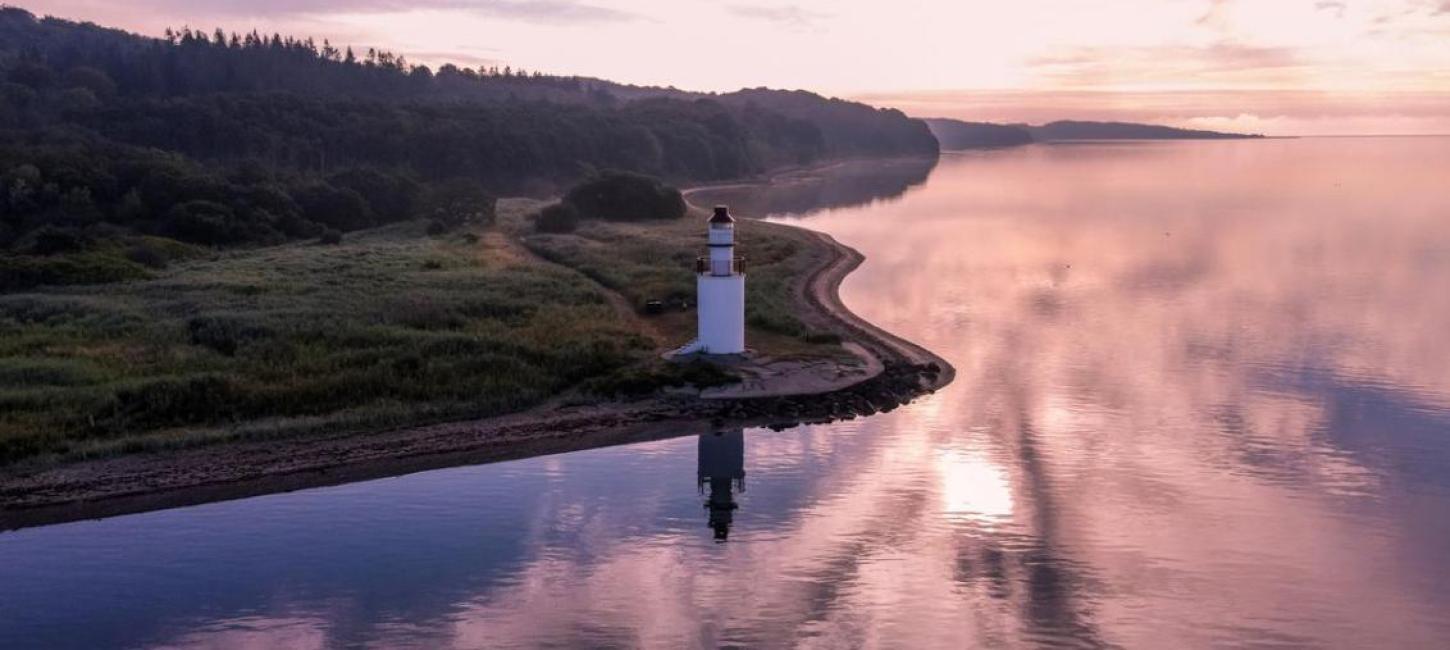 Invigorating trip with a fjord, pines and treatment paths
This trip takes you past picturesque landscapes along the refreshing treatment paths at beautiful Vejle Fjord and Træskohage Lighthouse. When you breathe the fresh fjord air, you feel exactly why the area is - and has been - a favourite spa area with a focus on the body and mind. 
Start the trip at Hotel Vejlefjord
We recommend that you start your trip from the old sanatorium and current spa hotel, Hotel Vejlefjord. 
The hotel was originally a sanatorium for tuberculosis patients, who were treated based on the fresh fjord air, exercise and rest. Today, the hotel offers one of the country's best spa and wellness experiences.
Here you can park the car and test your lung capacity on the original treatment paths of varying length and inclines. Throughout the area there are benches where you can take a rest, enjoy the stunning views and smells of the sea and forest floor.
You can also order a picnic basket at Hotel Vejlefjord, which you can enjoy along the way in the beautiful park or at Træskohage Lighthouse.
Note! Picnic baskets must be ordered no later than 6 pm the day before you need the basket. Call +45 7682 3380 or write to receptionen@vejlefjord.dk.
Nye horisonter ved Træskohage Fyr
Follow the treatment paths down to the sea and Stouby Beach. You can walk along the water to the west to Træskohage Lighthouse – an old lighthouse that today serves as a viewing tower with an impressive view of the fjord and the sea.
The 13-metre tall tower has recently been restored and today serves superbly as a viewing tower with its stunning view of the fjord. On a clear day, you can actually see all the way to Funen! It is also a popular subject for nature photographers and Instagram enthusiasts.
End the day with pure pampering
After performance comes enjoyment!
Once you've climbed the hills of the hilly terrain, finish the tour by pampering both your body and mind with a spa and wellness trip at Hotel Vejlefjord. 
Here in the encounter with the different temperatures, sounds and smells of the pools, you stand on the edge of sensory perception and enjoyment. In the stress field between the life of the forest, the park and the fjord, you can recharge your batteries and give yourself an experience you will remember for a long time!
Have a great trip!