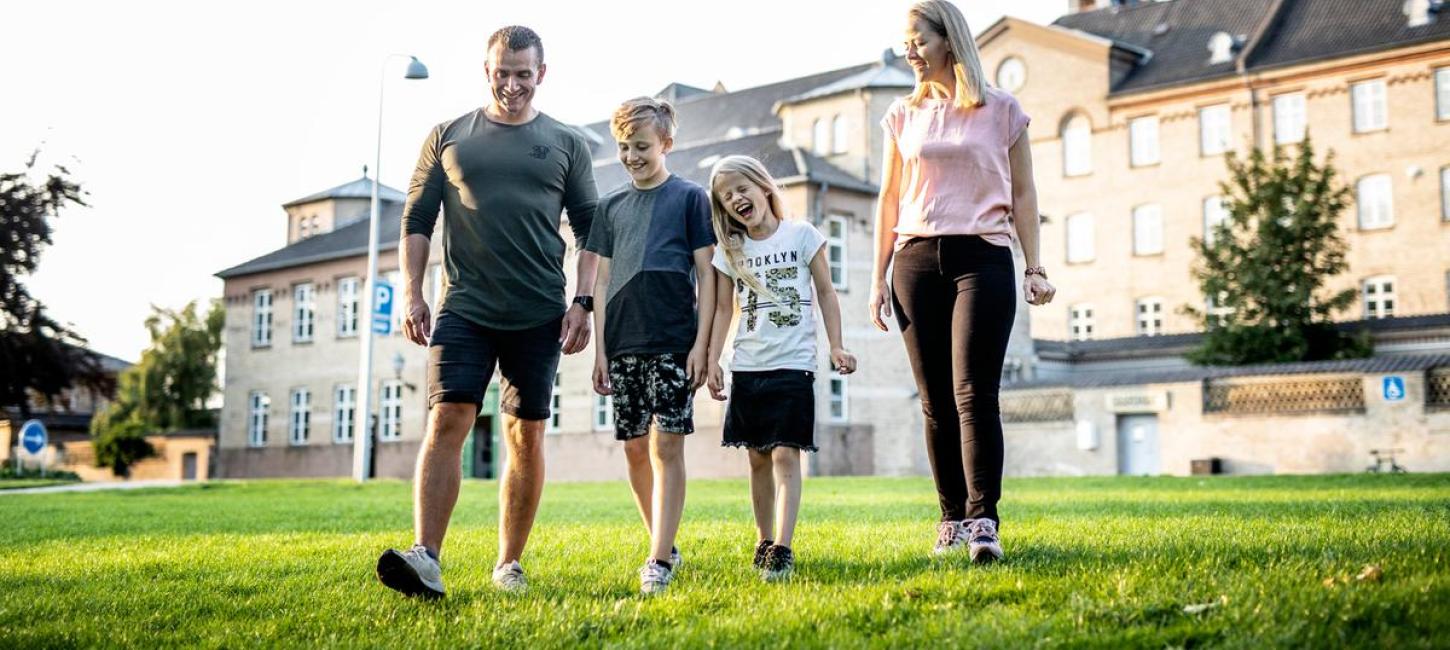 Experience life behind bars
Photo:
Destination Coastal Land
Can you be behind bars? In the Prison Museum, you can experience life as an inmate. Although the history of the place is bleak and serious, there are live exhibitions and space for play. In the prison park, the kids can try their hand as an escape artist on the "Great Escape" play tower.
Welcome to the "Castle"
... but forget about Disney princesses and magic. the Prison Museum was a dreadful landmark for Horsens, and many people have lived their worst years behind the grey-and-yellow walls. In turn, the Prison Museum is also filled with stories of hope, will and resistance.
Experience, among other things, the almost too-amazing account of Carl August Lorentzen's spectacular escape from the state prison in 1949, and see the actual cupboard he squeezed out of. I wonder if you could do that.
Also feel the history of the building creep under your skin as you move from the harsh one-man cells from 1853 through to the more modern facilities the building housed when the prison closed in 2006.
Here are prisoners and guards, horror and joy, life and death. Come behind bars and experience it for yourself. And don't worry - you're going to be let out again. 
Experience the courtyard cosiness at Spisehuset 8F
If you walk around the prison yard at lunchtime, you will smell that something is cooking in the pots at Spisehuset 8F. In the charming café you can get brunch, light lunch dishes, cake, ice cream, coffee or an ice cold specialty beer. So there is something for everyone here - both large and small.
Enjoy the food either in Spisehuset's cosy rooms, out in the authentic courtyard or perhaps by one of the benches out in the park, under the beautiful trees of the old prison garden. 

The Prison Museum is a beacon of culture, events and concerts. Maybe you are lucky enough and there is something exciting and fun happening while you are here. We're keeping our fingers crossed! 
Photo:Destination Coastal Land
Is there time to spare

? 
In the area around the Prison Museum there are some fantastic local natural pearls.
For example, go down to The Four Meadows wetland or see the wild horses at Nørrestrand nature reserve. 
From both places, the Prison Museum is close on the horizon and since it has been there for almost 170 years, you can sense in nature what it must have been like to walk as a villager towards the growing market town and look up at the large, modern and frightening building at the top of the town.
Did it also give you the creeps?
Is your stomach starting to rumble?
Just 5 minutes by car from the Prison Museum there are several delicious places to eat where the whole family can sate their hunger - so buckle up!