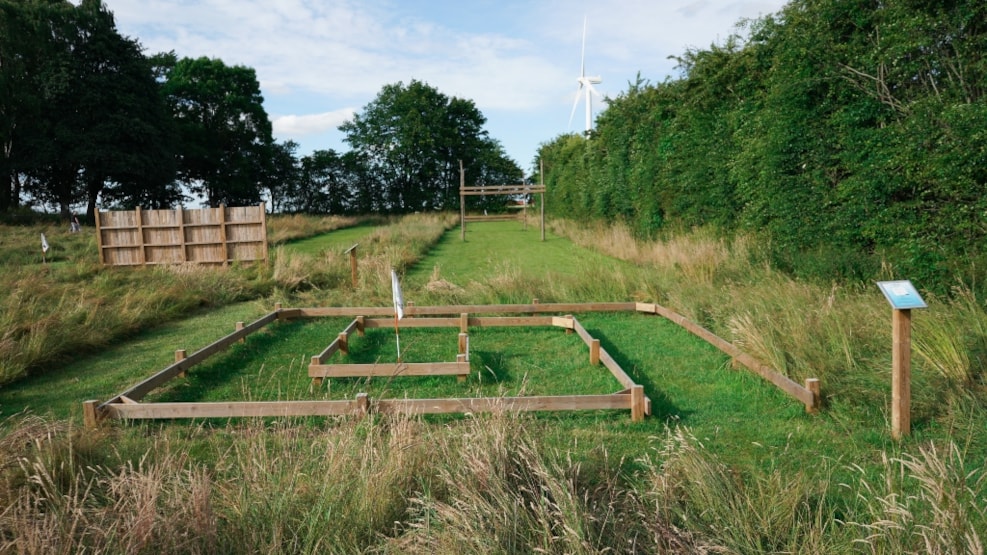 As Vig Footgolf (Fodboldgolf)
Bring your family or friends for a couple of entertaining hours at this football golf court, near the Juelsminde. Challenge your abilities and technique on the 18-hole court, and celebrate afterwards with a picnic at As Vig Footballgolf's barbecue.
Fun Activity for The Whole Family
Are you, your kids, or your friends the types of people who can't look at a ball without getting the urge to kick it?
Well, have we got the place for you! As Vig Footballgolf is located near the coastline bewteen Horsens and Juelsminde. The 620-meter-long golf court has 18 holes, all sure to pose a challenge even for the skilled participants! Here you will not get tackled - instead, it is your technique and abilities with the ball that will be tested. Here you will have to kick the ball through the many challenges and twists on the golf court.
You don't have to be a pro to have a fun experience. Here the whole family can join in and there are challenges suited for all levels of skill.
What is Football golf?
Football golf is a relatively new phenomenon that has much in common with both golf and crazy golf. In short, you will have to kick the ball into the hole in as few attempts as possible. You don't need expensive equipment or a membership. This is a version of football where you will kick the ball through, around, over and under a multitude of obstacles.
You can choose to play as individuals or as teams. A group of four can expect to get through the court in 1½ hours.
For 100 DKK per person, you'll gain access to the court for the entire day. For children, the price is 50 DKK. Access to the teqball table, which is best described as table tennis with your feet, is also included in the price.
We recommend bringing a picnic basket packed with food, and you can freely use the gas grill and enjoy a meal in the sun.
Open all day – all year round
As Vig Footballgolf is always open. There is self-service on the court as well as clear signage with instructions and rules.
More holiday experiences close by
A trip to As Vig Football golf will easily take up a few hours, but you can combine your visit with other activities in the area for a day trip.
Close by you will find, As Vig Beach which is family-friendly and perfect for pleasant strolls along the beautiful bay. You can also visit  the flower park of Palsgaard Castle, or go to Juelsminde which offers one of the cosiest harbors in all of Denmark. Here you can play a game of miniature golf or a game of ordinary golf.

Find more inspiration for your family vacation in Juelsminde.