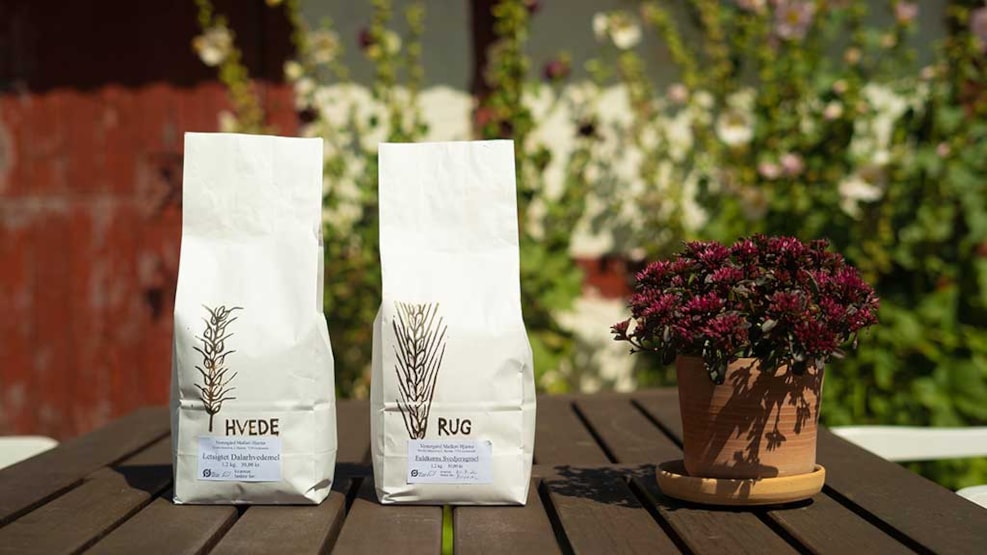 Vestergaard Mølleri
In this cosy farm shop on the island of Hjarnø you can buy organic flour from the farm's own fields or meat from their own sheep. Here, you can rent a bicycle and explore the island – and if you are struck by the island atmosphere and want to stay a little longer, you can spend the night in the farm's cosy cabin.
Enjoy the charming island life
When you visit the cosy island of Hjarnø you should treat yourself to a visit to this little gem in the western part of the island. Located on the shores of Horsens Fjord, Vestergaard Mølleri gives you a good and authentic idea of island life and country living.
The small family farm produces its own flour from grain grown in its own fields and keeps both chicken and sheep that aid in stocking the shop.
Organic products and treats
If you are looking for an authentic and local souvenir, you can definitely find it at Vestergaard Mølleri. At the mill, you can buy organic flour produced from grain grown in the field just outside. You can buy a special kind of whole-grain rye flour and lightly-sifted Dalar wheat flour – old grains that make delicious bread. You can buy skin, yarn and fresh lamb's meat from the farm's Ertebølle sheep. And you can also buy eggs from the farm's own chicken.
If you feel thirsty or in need of a cold ice cream on a hot summer's day, you can take a break here. You can buy Skarø Ice Cream and Anton's juice – both organic, of course. You can also enjoy a cold beer or a hot cup of coffee.
The shop also sells a selection of crafts, cutting boards and the local Hjarnø string bags.
Rent a bicycle and explore Hjarnø on two wheels
You can rent bicycles for both children and adults from Vestergaard Mølleri.
Hjarnø is no big island and you can go around the island in less than a day. However, cycling around the island's quiet roads where there is not much motorised traffic is a pleasant experience.
Renting a bicycle for four hours is only DKK 25 and DKK 40 if you want to use the bicycle for the entire day. You can also rent bicycle helmets and trailers.
You can take the bicycle on the small bicycle ferry that connects the island to the neighbouring island of Alrø which means that you can experience two islands in one day.
Spend the night in the farm's cosy cabin
Vestergaard Mølleri has a cabin where you can spend the night. The small wooden cabin is a "Swedish stuga" with a tiny kitchen and shower/toilet facilities next door. The price is DKK 300 per night including bedding.