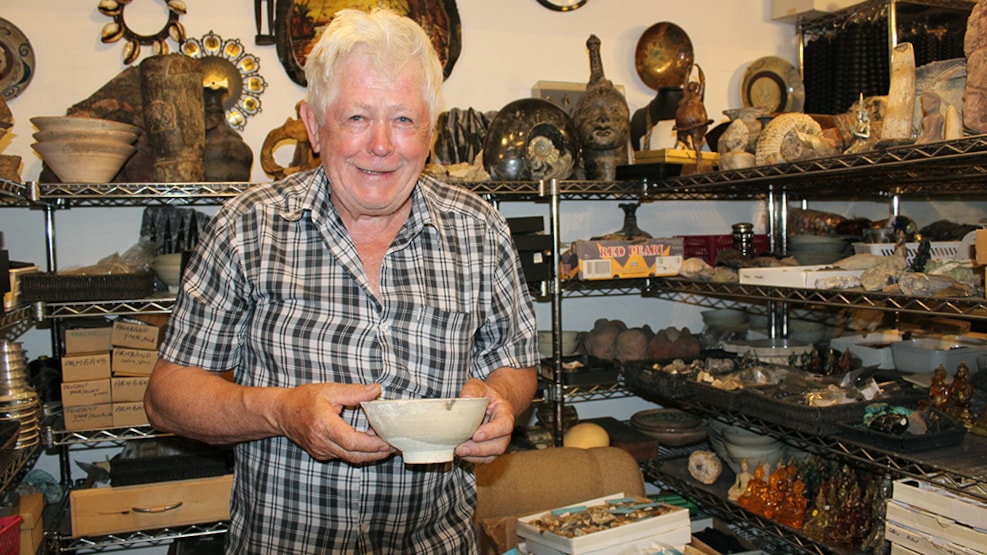 Unique collection of millions of years old fossils
See some of the world's oldest fossils in a private collection.
Dinosaurs, pre-mammoth elephants and fulgurite, a fossilised lightning, are just some of the unique discoveries you can experience at Fossile Smykker in the town of Ring near Brædstrup.
Poul Skov Christensen has converted his home to a museum where he shares his prehistoric discoveries gathered through numerous trips to, amongst other places, Asia and Africa, and he promises that there is something for everyone.
It's like stumbling into the secrets of the past when you step inside an otherwise ordinary house and get a glimpse of objects from a world as it looked thousands and thousands and even millions of years ago.
In particular, two sections make the collection very special. The elephant collection and rock carvings of the Sahara.
Elephant Collection
In the ceiling there are huge tusks, 3.5 metres long weighing 75 kg.
The Elephant collection contains relics of no less than 10 elephant species older than the mammoths. The prehistoric remains are between one and three million years old.
Encounter one of the world's largest, 3.5 metres long, and oldest tusks from a mammoth, as well as carvings, figures and jewellery made from million year old ivory.
Saharan Rock Art
Sahara petroglyphs that are between 10 and 15,000 years old adorn the collection. Poul has 19 carvings, and they are up to twice as old as the oldest pyramids. Petroglyphs are a picture or symbol carved into stone or cave walls and associated with prehistoric peoples.
There are always new objects appearing that tell a story of the past.
Amongst other items you will see;
thousands of dinosaur teeth
a fossilised horses head, about 3 - 5 million years old and perhaps the world's oldest
fish from Jurassic period, which began over 200 million years ago
shark teeth, trilobites and ammonites
meteor iron, meteor rocks and fulgurite
1000 years old jewellery and beads
In addition to the many fossils, you can also see gemstones with several thousand years behind them. Among others, there is amber jewellery, topaz jewellery, diamonds, opals, different minerals and genuine pearl necklaces.
The collection consists of both finished chains and stones, so you can make your own chains.
Drop by
Everyone is very welcome to visit. It's completely free to look, and you may even come home with a dinosaur tooth, a beautiful opal or a million year old fossil, because it's also possible to buy some of the items.
Open by appointment
Contact Poul at +45 50340940 and ask when you can pop by and see his collection.