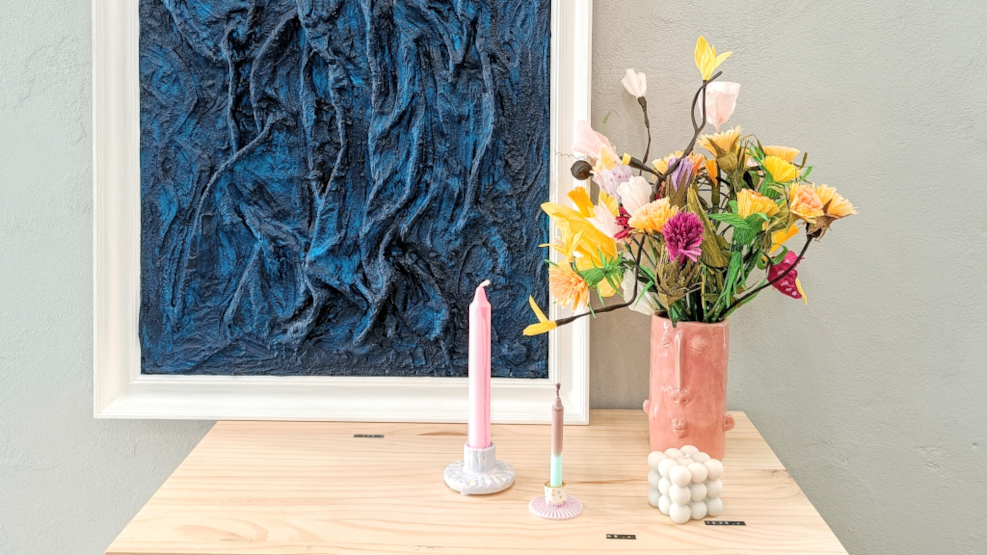 UKÆNT
Step inside this creative shop near the centre of Horsens that is home to three companies. UKÆNT has open workshops where you can follow the creation process of art or try to make your own candle. Go and explore the exciting selection of arts and crafts and design on the shelves.
Creative rendezvous and shop
UKÆNT is a new store and a creative multi hub in Horsens with many options and activities in the same building. You can find three companies here with each their own unique character and specialization. Knust. creates colourful, upcycled artwork, AHNE® who make colourful, hand dipped candles, and Flirt that produces organic, minimalist, hand printed clothing with a touch of humour. Together they have created an exciting shop where they, apart from their products, sell arts & crafts and colourful design items – often unique – by carefully selected small manufacturers. So, come in for a cup of coffee and a conversation with the owners of the shop – we guarantee that cannot visit the store without finding new inspiration for the interior design.
Creative workshops all year
UKÆNT's activity calendar is bursting with creative workshops for adults and children. Here, you can make your own candles, arts & crafts, jewelry, and much more. The selection of workshops is wide, and there are also guest workshops by other skilled, creative souls
You can get an overview of future workshops on UKÆNT's Facebook page (In Danish).
Opening hours
UKÆNT is open Monday-Friday 2-6 p-m. There might be special opening hours during holidays, so keep an eye on Facebook or UKÆNT's website.
About Knust.
The artists Maria Emilie and Jesper are the faces behind knust. Together they create lively, colourful paintings that will do something good for the design of any home. The scenes are abstract, and the artists focus on upcycling and recycling. You can always find a selection of their paintings in the shop. In addition to the paintings, they also produce art posters that you can also find in UKÆNT.
About AHNE ®
Michela Kiilerich owns AHNE® and produces colourful candles. At UKÆNT she has a showroom, production and a store, and there is always a selection of unique colourful candles on the shelves. The candles are dipped in smelted, coloured wax so they get each their own unique touch. You can visit the store any time within opening hours and make your own candle in the colours of your preference.
About Flirt
Flirt produces handprinted clothing and tote bags. All clothing is produced with care – it is organic, vegan, and created with a focus on sustainability. The unisex clothing and tote bags have a simple, minimalist expression with a handprinted design that is both humorous and pointed.  
Come on inside the store and see the latest designs.