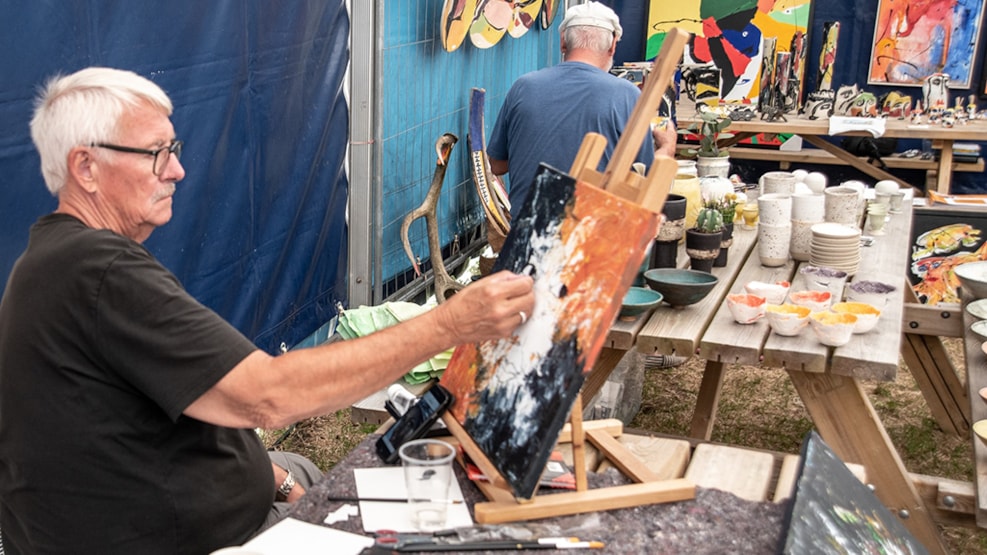 Tunø Kunst Kultur
Every year, you can attend a series of events that are organized on the island Tunø. Cultural events such as art exhibitions, concerts and talks help create life and activity on Tunø for inhabitants and tourists.
Summer events on Tunø
Tunø Kunst Kultur is an association that aims to create awareness about the creative side of Tunø and the many artists living on the island. It is their ambition to create art, arts & crafts, creative culture, enlightenment, and conducting public events that helps create activity and experiences on the holiday island.
Events for everyone
The events of Tunø Kunst Kultur are diverse and ranging from art exhibitions to folksy concerts for adults and children. You can attend most events free of charge during the summer half-year when there are lots of tourists in the streets of Tunø.
Events in 2022
During the summer period you can experience the following events on Tunø:
July 3-8: Drop-in art workshop by Peder Nors: The artist Peder Nors once again invites you to a drop-in workshop for children and adults in The Water Tank (Vandtanken) next to Tunø Church.
July 6: Billy Bobs Boogie Band: Live music and party in the Essex tent at the harbour.
July 20: Community singing at the harbour with De Tre Fra Tunø
July 26: Tine Mynster and Auto Otto: Entertainment for children on Tunø School.
Lovely Tunø
There is a very special atmosphere on the island without cars, Tunø in the Kattegat Ocean. Tranquility, idyll, and local charm makes Tunø one of the loveliest islands in Denmark. Enjoy the peace and quiet at one of the eateries, visit the gallery or go for a walk in the little village. You can also walk the 8-kilometre-long route around the island with a treasure map in hand and receive a medal if you give the correct answer for each question.
Read more about experiences on Tunø on this page.
Or follow this link to find more cultural events in the Coastal Land.