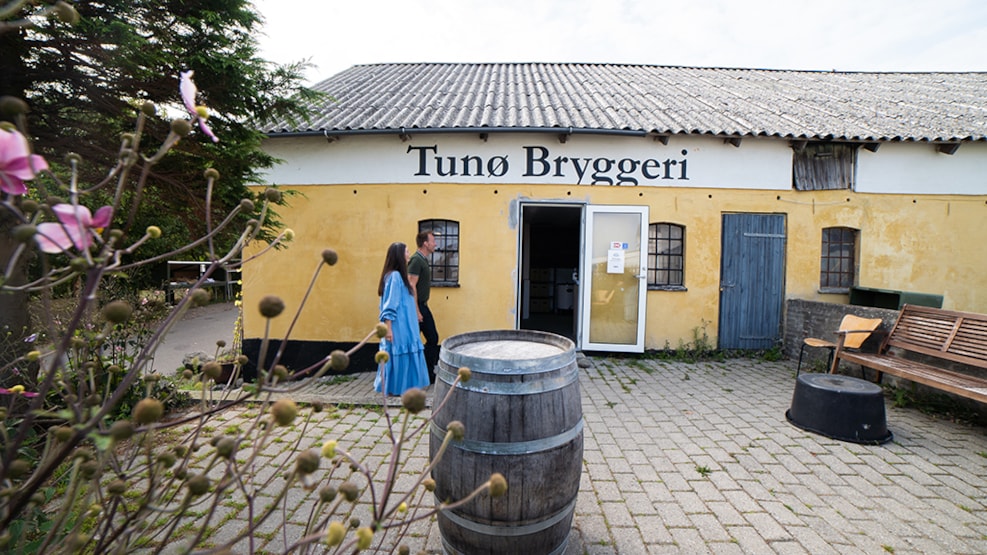 Tunø Brewery (Bryggeri)
Tunø has its own microbrewery with a fine selection of quality craft beer, country wine, cider, and mead. If you are looking for an authentic local souvenir, then make sure to stop by the store.  
Microbrewery with local charm
The little idyllic island Tunø has its own brewery. At Tunø Brewery they strive to use local and organic ingredients of the highest quality. The head brewer takes part in all the process from selection of ingredients to bottling.
The core of Tunø Brewery's production is the many delicious specialty beers – all brewed on barley malt. Try their Weiss Bier, the porter with a hint of licourice and anice, the fresh Belgian Saison or the brown ale that the head brewer humbly thinks is the best in the whole world. But why not check for yourself?
Much more than beer
Apart from the production of beer, you can also purchase traditional Nordic mead brewed from local ingredients – for example the delicious Tunø honey. The refreshing cider is brewed on gala and jonagored apples from Tunø, and the strawberry wine contains berries from Hans' and Lise-Lotte's fields.
Visit the store
At the heart of the island, you can find the brewery's little store selling all the brewery's products. The head brewer is ready to guide you into making the right purchase. Just follow the island's peaceful main street from the harbour. You cannot miss the brewery. The production is not large, so sales are on a first-come, first-served basis.  You can enjoy your beer on the sunny patio or bring it home with you as a souvenir or a unique gift to one of your loved ones. Tunø Brewery's products can only be purchased on Tunø, so this will surely be a brand-new taste experience for any beer enthusiast.
In case the store is closed, you can also taste the local brew at the local eateries.
A part of Kystlandet's food map
Tunø Brewery is one of many local food manufacturers in the local food map. These manufacturers are your guarantee for locally produced products of the highest quality in the Coastal Land.