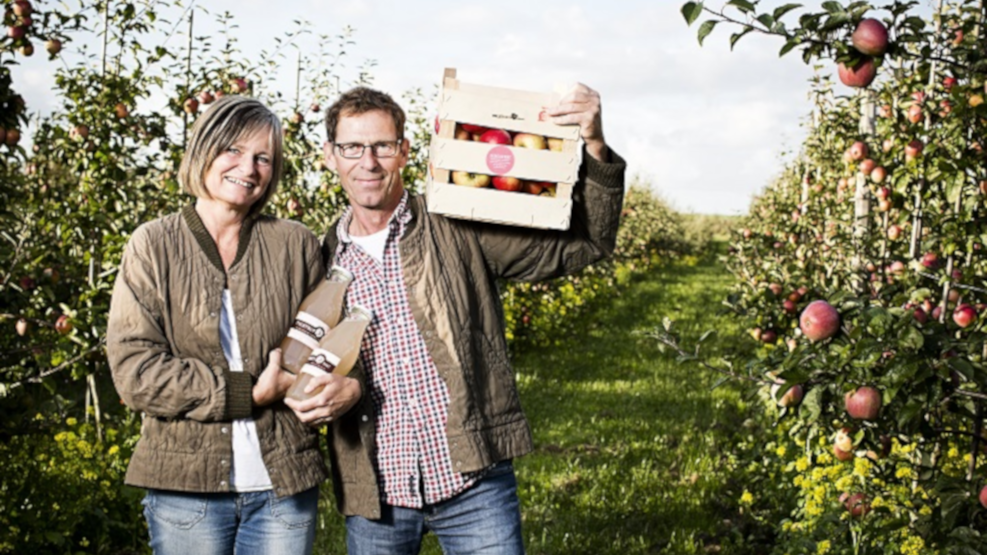 Tolstrup Organic Apples (Økologiske Æbler)
Come to the countryside north of Horsens at the farm and orchard Tolstrup Skovgård. Visit the farm shop that offers many sorts of freshly picked apples, apple juices, lamb, and many other quality products of own produce.
Organics from farm to table
Tolstrup Skovgård is idyllically situated with a view of Horsens close to the village Gedved and Hansted Forest. Here, Holger and Lis run an organic orchard with lots of passion and dedication. The trees are well cared for which you can both see and taste. Great effort is put into making the best apple production possible. For example, the farm has their own bees that help minimize the insect and pest population. The goal is to produce the best apples in Denmark. In addition to apples, they also have pears, and sheep that produce high quality lamb.
At Tolstrup Skovgård you are welcome to walk around the farm and see the pigs and sheep.
The farm shop
Tolstrup Skovgård has its own farm shop where they sell freshly picked fruit in season as well as the farm's own homemade products using apples as an ingredient. There are more than 10 different sorts available in the shop which is open during the season.
In addition to fresh fruit you can also buy delicious apple juice. You can choose from 5-6 different sorts that give each their own unique flavour.
You will also find apple jam, apple vinegar, apple wine, two different sorts of pear, and honey from the farm's own beehives.
In addition to the farm's own products you can also find fresh eggs from Æggegården in Glud and quality vegetables from Hanstedholm.
Open during the season
Sadly (but naturally) you cannot buy freshly picked fruit all year at Tolstrup Organic Apples. Every year, the shop opens in September as soon as the fruit is ripe and ready to be picked. The shop is open during autumn and winter as long as there is still fresh fruit available. Check Tolstrup Organic Apples' Facebook page for opening hours and availability before visiting the shop.
Tasty lamb
Tolstrup Organic Apples also has a lot of sheep – more than 45 mother sheep. There are both Gotland sheep and a crossbreeding of Gotland and Texel sheep. The lamb is high quality meat with a good colour and taste because of the combination of races and the clovers and herbs in the grass.
You can buy a cut lamb consisting of lamb chops, minced meat, legs of lamb, shoulder, offal, and diced meat by contacting Tolstrup Apples. The weight of the cut lamb meat is approximately 15-20 kilos.
A part of the Coastal Land food map
There are many local food manufacturers selling quality products in The Coastal Land. On The Coastal Land food map you can find inspiration for other local farm shops and food manufacturers worth a visit with their good ingredients and their own production of specialties.
Destination Kystlandet © 2023