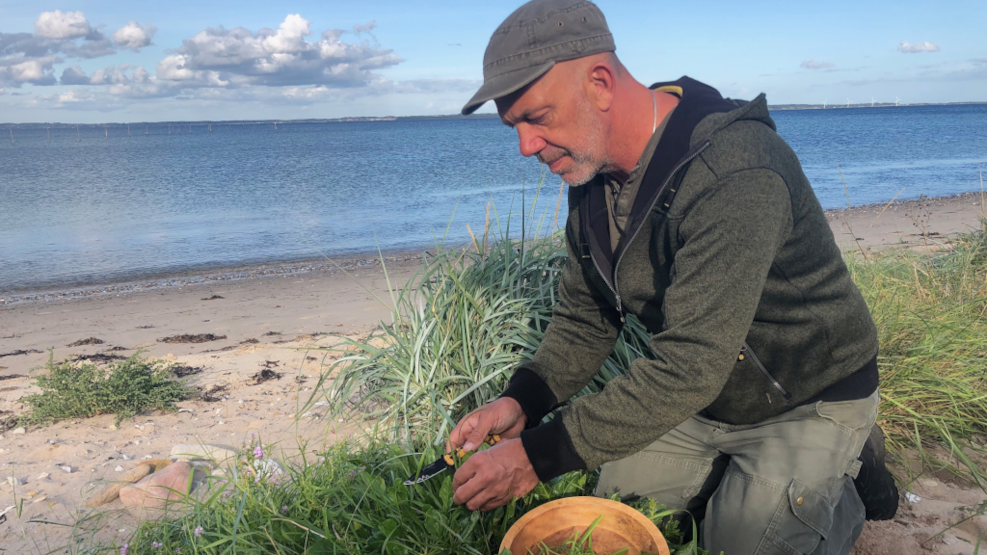 Strandhøst
The Danish nature is one big kitchen garden filled with edible plants and foodstuff. Come along for a foraging tour with Strandhøst and learn all there is to know about the delicious ingredients outside the doorstep.  Here, you can combine outdoor life with cooking, and memorable experiences.
Foraging and cooking under the blue sky
Strandhøst invites you for a present and different nature experience. The experienced guide Svend Hamann is an expert in outdoor life and all the edible delicacies that you can find in the Danish nature. He happily and willingly shares his passion for collecting, catching, harvesting, and cooking food outdoors, and you have the opportunity to book him for foraging tours in the Coastal Land.
Immersion in nature
Would you like to find wild ingredients and cook them outside? With Strandhøst you can learn how to find herbs, harvest seaweed, fish or catch shellfish. Foraging has become popular in the last few years – with good reason. You experience your surroundings more intensely when you are searching for something. Using nature for something concrete like bringing home exciting ingredients to your own kitchen is a great experience and relaxation for body and mind.
For most of us, it can be hard to conclude whether a plant is edible or poisonous, and how to identify herbs and mushrooms – and not least how to use the often untraditional tastes when cooking. Many of the plants are not common ingredients in cookbooks.
Book a foraging tour
You have the option of booking Strandhøst for a 2-hour tour where you are staying – no matter the nature type. The tours can be arranged in cities, forest, meadow or beach. If you are on a coastal holiday in a holiday home or a camp site, then you will hear about the plants, berries and herbs that can be found in that specific environment. And if you are living in one of the local towns and cities, then you can learn what can be found only a short distance from the city centre. The tours always include a "wild welcome drink", an introduction to foraging, a guided tour, and an introduction to the ingredients found on the tour.
You can also choose to book Strandhøst for a wild mushroom tour or an all-day foraging tour including cooking - using the ingredients collected during the day.
Great flexibility
Strandhøst has all the right outdoor equipment, and can facilitate both small and big events and foraging tours based on your wishes. Would you like to collect shellfish at Horsens Fjord? Or maybe a bachelor party with accommodation outdoors?
Feel free to contact Strandhøst with your enquiry.