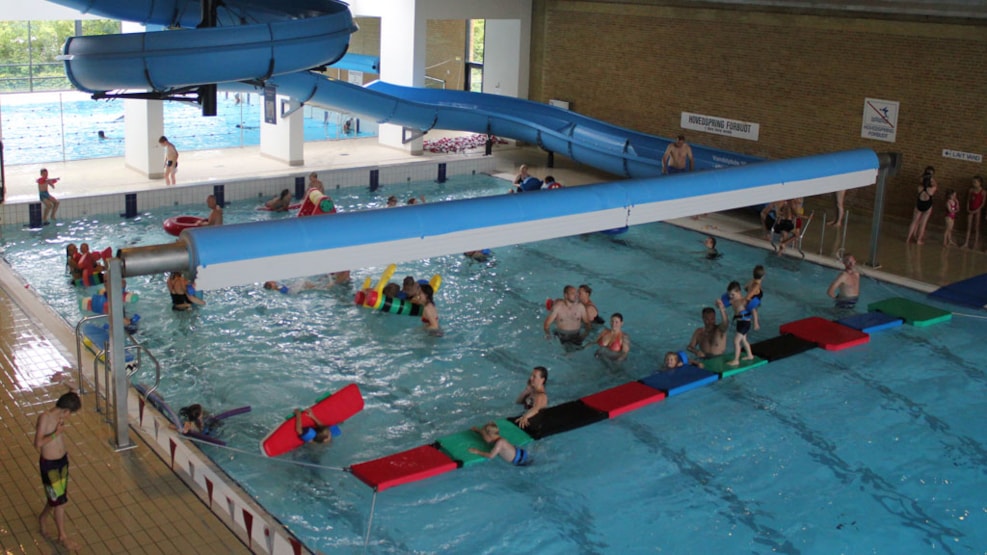 Spektrum Odder Indoor Swimming Pool
This indoor swimming pool with great facilities is located in Odder's centre of exercise and sports. Here, you will find ample space for play, exercise, and pampering. Bring the family and go for a ducking in one of the four basins.
Swimming for everyone
Spektrum Odder Indoor Swimming Pool has good facilities no matter who you are, what interests you have, and who you are with. There is plenty of room for both fun and play and exercise. Nothing is missing here, so come for a bit of splashing in the water, and to enjoy yourself.
Play- and exercise area
Are you going lane swimming or looking for fun and games in the water? In the play- and exercise area you will find two almost identical pools for those two activities.
In the playing pool you can dive from the 1meter og 3meter platform or slide from the big water slide. You will also find playing equipment, balls, and floating gear free for use.
The exercise pool has a length of 25 metres and a depth of water of 2 metres - well-suited for lane swimming.
Hot-water area
In the hot-water area, you will find two pools, one of which is for families and adults, and one for babies and small children. The water is 34 degrees celsius and the air is 36 dregrees.
The facilities here enable the small children to undress and go straight into the heated water. There is also a small water slide and different play equipment for small children.
Wellness for adults
Go to the swimming centre for a night filled with well-being. Wellness is on offer every Tuesday and Thursday from 6-10 p.m. with sauna aromatherapy (sauna mist), café atmosphere, candles, relaxing music, swimming, and massage nozzles. On Thursdays, the activity level is usually a bit higher, and you can for example attend aqua fitness on fitmats and other activities. The wellness evenings are only for adults (+16).
Playtime for children and adults
Jump off the 1- or 3-metre platform, slide down the water slide or tumble around on the play equipment such as the big, inflatable dog. Every Wednesday from 6-10 p.m. is dedicated to playtime in the swimming centre.
Opening hours
Spektrum Odder is open Monday-Friday 10 a.m.-4 p.m. during summertime (Weeks 27-32) autumn break (week 42), winter break (week 7) as well as holidays.
You can see the current opening hours at Spektrum Odder's website.
About Spektrum Odder
Spektrum Odder is the local centre for sports and activity. They have the facilities to host a range of different events. In addition to the swimming pools, Spektrum also has a stadium facility with nine football fields, three sports halls, tennis courts, rugby, basket, athletics, a skate ramp, a café, and assembly rooms.
Some facilities, such as the skate ramp and the basket court, are available for free while others require booking and payment.