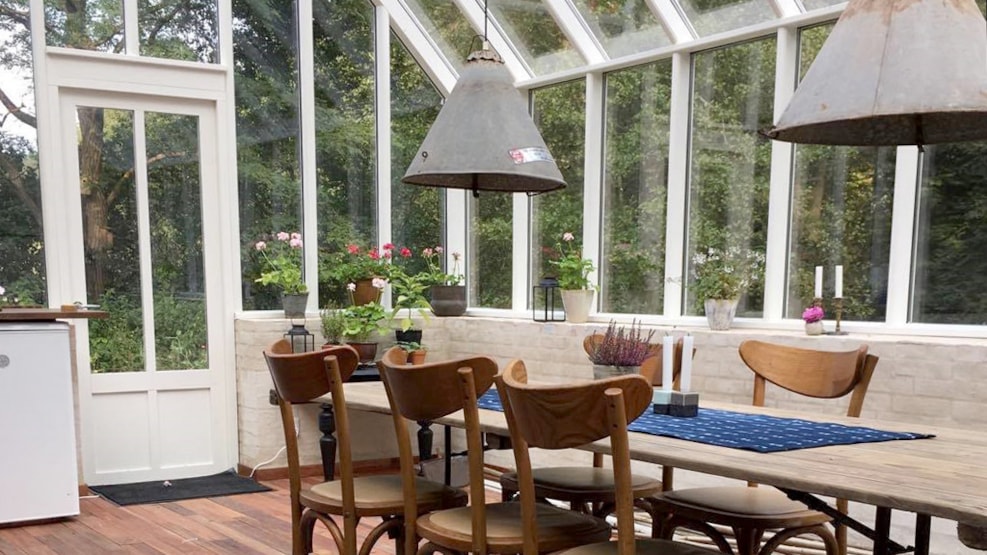 Sondrup B&B
Sondrup B&B is an idyllic and cosy bed and breakfast situated in forested surrounding in the Sondrup Hills. Here, you can unwind in the quiet of the deep forest and enjoy the beautiful ceramics in the potter's workshop. 
NB: Sondrup B&B is closed for the winter. 
Charming private accommodation in peaceful surroundings
The beautiful nature area Sondrup Hills is home to Karoline Illum's half-timbered house surrounded by forest, creek, and a meadow. The area oozes of peace and tranquility, and the rich animal life is waiting right outside the door.
The annex is used as a bed & breakfast with two lovely rooms. There is a large, shared kitchen, shared bathing facilities and a fine, bright orangery. The annex has a large garden with a playhouse, a slide, and a fire ring as well as a little terrace with a grill that you are welcome to use.
In the orangery you can enjoy breakfast, carefully cooked by the host with primarily organic ingredients from the local area. Start the day with some home-baked bread, coffee, tea, juice, jam from local berries and cheese from the farm shop nearby, Øko Ged & Grønt.
Visit the potter's workshop
The owner of Sondrup B&B Karoline Illum is a ceramicist, and in a little forest hut with a thatched roof on the property, she has her workshop. When you spend the night at Sondrup B&B, you are welcome to visit the workshop and see her in action as she makes cups, plates and more.
The lovely nature
Sondrup B&B is located peacefully and picturesque in the hilly nature north of Horsens Fjord. The house is a perfect starting point for hikes in the area. Go for a walk on the waymarked route in Sondrup Plantation which is one of the most beautiful forests in East Jutland. Also consider visiting Trustup Hills where you have an excellent view of the fjord. And you should walk down to Sondrup Beach and go for a ducking from the bathing jetty. All of it is within short walking distance. And the dam leading to the island Alrø is not too far away either.
Sondrup B&B is close to the new hiking route, the Fjordmino, and is an ideal pitstop on the journey around the fjord.
The area is also characterized by several large manors and many exciting farm shops.
Prices and booking
You can see the price for renting the annex at Sondrup B&B's website. You can make a reservation by contacting the host.