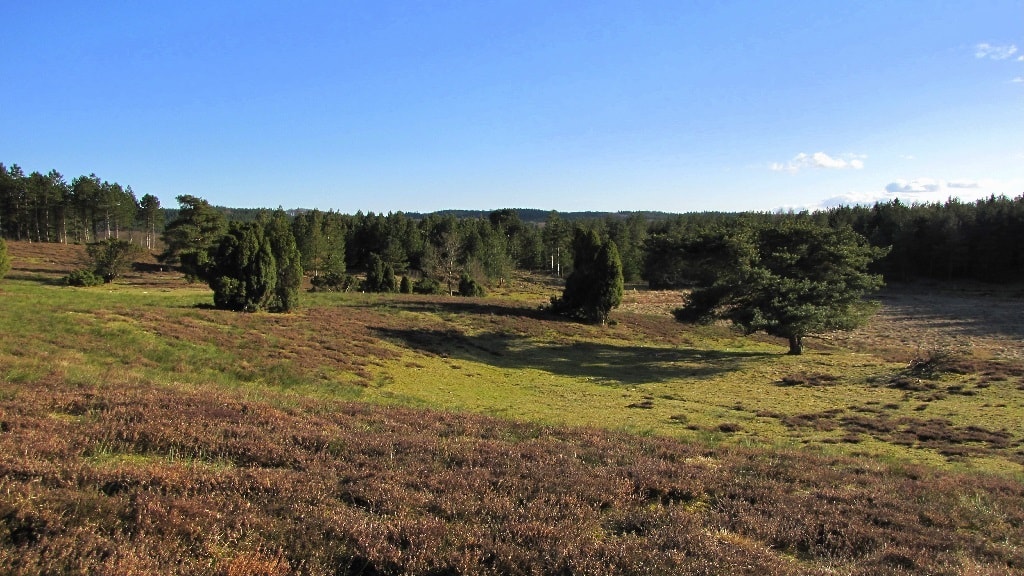 Salten Langsø
Salten Langsø is a highly elongated lake in the Danish Lakelands of central Jutland that flows between Salten Å (stream) in the west and the river Gudenå in the east. Salten Langsø is a subglacial lake surrounded by hills. The valley continues to the east to Lake Mossø, and the two lakes make up a unique and spectacular landscape by Danish standards.
Salten Langsø is one of the best examples of a Danish Ice Age landscape with the lake located in the bottom of the valley, steep sides in the lake, and steep moraine hills around it. The area around Salten Langsø is characterized by many smaller lakes with low calcium level that often have excellent bathing water quality.
The north side of the lake has lots of forest and steep slopes towards the lake. In the south there is a varied landscape with both forest, heath, lakes and moors. On the southeast side of the lake is the area Ryhule, which is characterized by forest heath and heather. This is also where you can find the remains of the old airfield Gl. Rye Flyveplads - an air base for the Luftwaffe during WW2 and the German occupation of Denmark. Later it also served as a refugee camp for 14.800 German refugees at the most. Around the beautiful landscape it is still possible to see ruins and remains from WW2 and the post-war era.
Salten Langsø has a rich wildlife, and especially the bird life has perfect conditions due to the combination of forest and lakes. You can observe many birds of prey – a large population of both fish eagles and sea eagles. The area around Salten Langsø is also the place in Denmark where the likelihood of spotting the incredibly beautiful blue kingfisher is highest. The otter also has great living conditions and can be spotted both in Salten Langsø and the many smaller lakes surrounding it on the south side.
There is hardly any human habitation by Salten Langsø, where the landscape generally stands out as a pristine place but close to the lake there are three villages – Salten, Gl. Rye and Addit on the west- south and east side of the lake respectively.
A bike trip around the lake should pass through these villages, as there are many spots where you cannot ride by the lakeside. The bike ride around the lake is 23 kilometres. For hikers there are many paths near the water but no route or signs.