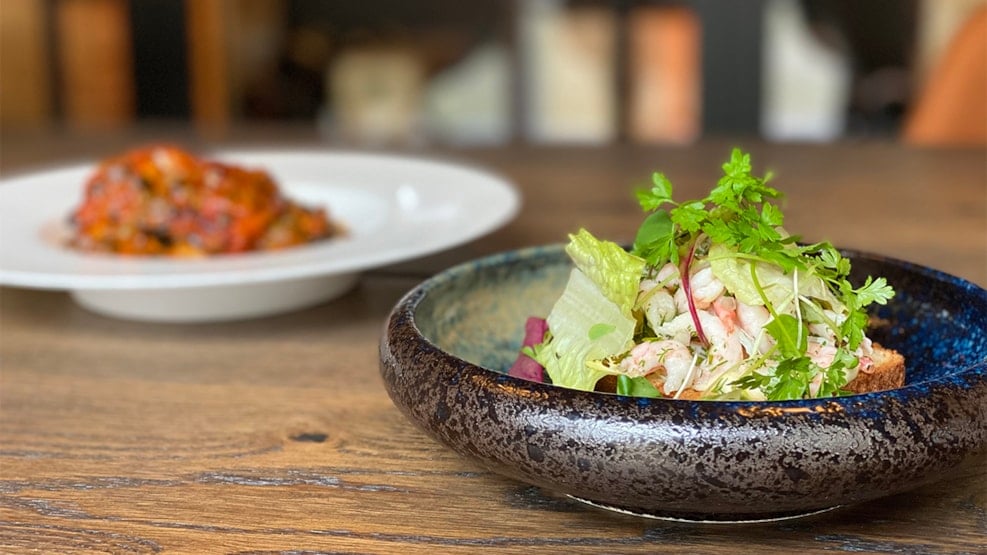 The restaurant at Malling Kro
If you are looking for a cosy eatery with a great atmosphere that can cook great meals from the best local ingredients, then this charming village inn is the place for you. With 150 years of experience in creating memorable culinary experiences, you are in good hands when going for a night out with high level gastronomy.
Culinary pampering in the countryside
The heart of the little village of Malling between Odder and Aarhus is the fine old inn from the 19th century. The restaurant is open for both lunch and dinner and serves delicious and well-known dishes made from local quality ingredients. At Malling Kro, the guest is always the centre of attention. "Hygge" and presence are the key components in cooperation with the simple and tasty culinary compositions.
The cosy and historic surroundings
Malling Kro is located in the centre of the village, at the station square where the light rail connects Malling with Odder and Aarhus. The old building from 1884 oozes of history – countless hungry mouths have been fed here through the ages.
The newly renovated restaurant is inviting in bright colours and a modern Nordic design. If the weather allows it, you can enjoy your meal in the charming patio or on the terrace at the station square.
If you wish to stay a little longer you can book a room and spend the night in one of the eight homely rooms. When you book a stay at Malling Kro you get a 3-5-course-dinner, breakfast and other delicious temptations.
Takeaway and private dining
Malling Kro offers takeaway, where the menu each week consists of a main course and a dessert. You can see the current menu on the website.
Wouldn't it be nice if you could make the chefs come to you and cook dinner in your own kitchen? This is possible at Malling Kro. The chefs will bring food and equipment – all you need to put at their disposal is the kitchen itself. Here you can read more about private dining.
One of Denmark's best wine menus
Malling Kro is an experience for all wine enthusiasts. The comprehensive wine menu contains many of the world's best wines and in 2016/17 the restaurant was awarded the 'wine menu of the year' by White Guide.
In the newly built wine cellar, you can enjoy wine in unique surroundings.
Book your table
Follow this link for online table booking.