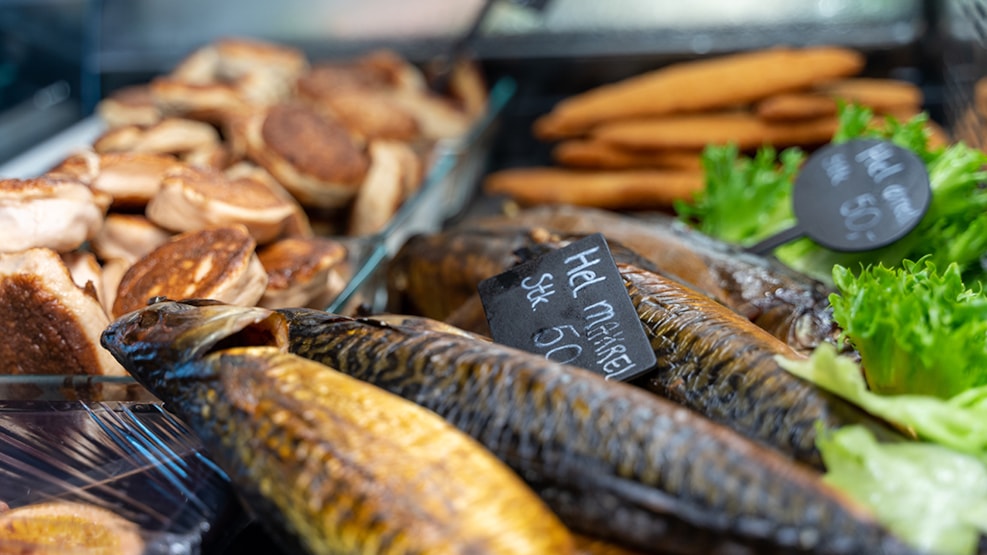 Restaurant The Little Smokehouse (Det Lille Røgeri)
Fish restaurant in the charming village Voervadsbro with a great atmosphere and an adjacent fishmonger.  Enjoy the popular fish buffet with an abundance of delicious fish specialities made from scratch in their own smoker.
Delicious fish delicacies in Bakkelandet
Near great nature attractions and with the river Gudenå running in the backyard, you can visit this combined fish restaurant and fishmonger in the idyllic village of Voervadsbro between Horsens and Silkeborg. All the fish products of the restaurant are homemade. The smoked delicacies are cooked in a 35-year-old smoker.   The salads are home-made, and the fish cakes are of course made with The Little Smokehouse's own recipe. If you are looking for freshly made, unpretentious, and well-tasting food in a cosy setting, then the Little Smokehouse is the place for you.
You can opt to sit inside in the big restaurant or outside in the charming courtyard environment.
Fish buffet
The buffet offers many of the delicious specialities that you can also buy in the store – including freshly smoked fish, warm fish fillet, shellfish salads, a salad bar with homemade dressing, and at least one meat course. Thebuffet is a cornucopia of fish lover goodies, and you surely will not go home with an empty stomach.
Cake, fruit, and cheese is also included in the price.
Book a table
The Little Smokehouse is a popular restaurant, and we recommend that you book a table in advance. The restaurant is open for lunch but not for dinner. You can see the current opening hours at the Little Smokehouse's website. Call the restaurant at +45 75 78 28 85 for table reservation.
Fresh fish to-go
The Little Smokehouse sells a selection of smoked fish, fresh fish, salads, and other delicacies. You can also buy take-away, ready-made meals, and picnic boxes to-go.
You can read more about the fishmonger and products for sale on this page.