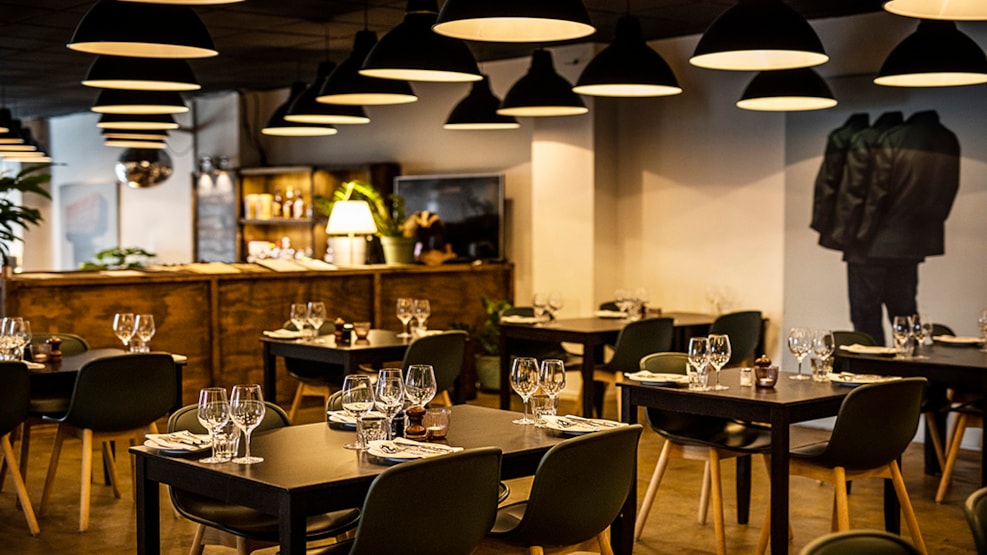 Green Experience
Restaurant The Gas Plant (Gasfabrikken)
Delicious, creative and well-cooked courses made from organic and local ingredients. At Gasfabrikken you can get a evocative taste experience that appeals to all your senses.
Taste is number 1 – ecology is a bonus
Hede Nielsen's old gas factory in the heart of Horsens is today converted into a modern and inviting restaurant and bar. Here, the ambitious chefs cook food from scratch and from local organic produce. Gasfabrikken is the city's only restaurant with the Organic Cuisine silver label, which is your guaranty for 60 to 90% organic produce. At the same time, they make highly use of ingredients from local food producers of high quality.
The popular seasonal menu
For dinner you can sink your teeth into Gasfabrikkens seasonal menu, which consists of four delicious and varied courses. The menu changes every third week and is always based on the produce, which are at their peak right now. For the seasonal menu you can choose the wine menu or the beer menu as and ad-on.
You also have the opportunity to order dishes a la carte from a small but exciting and varied menu, with fish, oxen, tapas and risotto, among other things.
Gasfabrikken has got an expansive wine- and beer menu with lots of organic and biodynamic treats, and a cocktail menu, where, among other things, their own produced gin is highly recommendable.
Brunch and lunch
Stop by for some self-indulgence in the daytime hours and try one of the classics at Gasfabrikken's lunch menu. Enjoy a lavish tapas plate or maybe plate of veal-tatar or a Caesar-salad – here, there is something for eneryone.
Between 10 and 12 in the morning you can start the day with a high-quality brunch-buffet with lots of great cheeses, charcuterie, home-baked bread and sweet pickled goods plated on an inviting self-serve buffet. Your omelet, pancakes og eggs benedict is made by the order, to ensure that it is fresh and to your desire.
Gasfabrikken has got long opening hours 
Make yourself comfitable in th e cosy bar at gasfabrikken, which offers a broad menu with everything from organic juices to craft beer, wine, cocktails and a plentitude of different rom and gins – among these, of course, the house's own bathtub-gin. Friday and Saturday the bar is open until midtnight. Check out Gasfabrikken's opening hours on their website.
Book your table
We recommend that you book in advance. This way you are sure that there is a seat for you when you visit. Click on this link to book your table online.