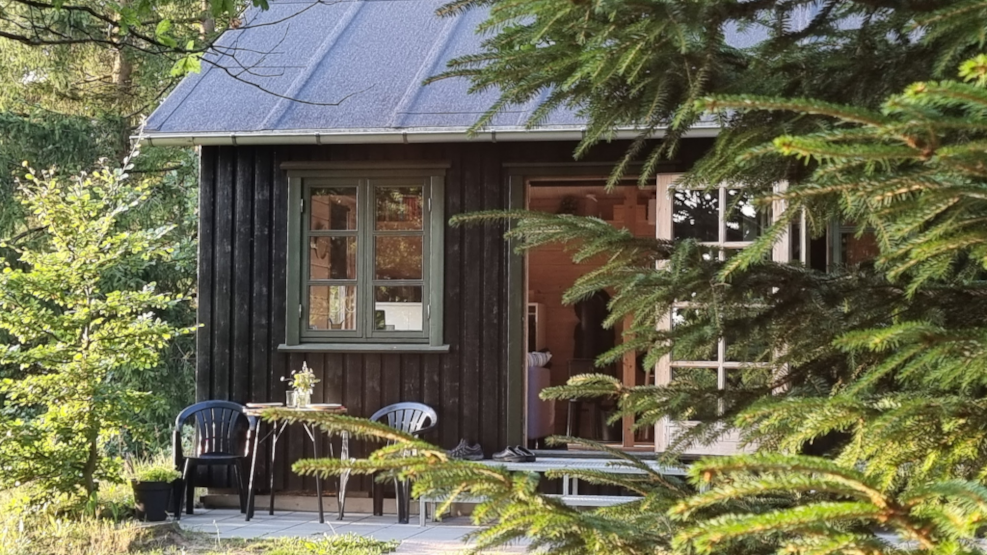 Rent a cabin in the forest
This unique choice of accommodation for the nature lover is well-hidden in the forest in Slagballe Hills. Here, you can experience primitive accommodation the comfortable and luxurious way as you book a cabin and annexe in deep nature.
Primitive cabin and annexe at a great location
The forested area of Slagballe Hills (Bakker) is found east of the lakes Karlsø and Bryrup Langsø. Here, in picturesque surroundings, there is a small cabin is well-hidden in the forest that you can book for a night or a longer period. When you step out of the front door, you are literally in the middle of nature, and its rich animal life. The area also has great conditions for outdoor activities of any kind – from hikes in the beautiful nature of The Danish Lakelands to fishing, swimming, and sailing on the lakes.
You can really get the feeling of being alone in the wild and enjoy the healing tranquility of the forest.
Where primitiveness is combined with comfort
When you book accommodation, you get access to a cabin and a small annexe. The cabin is charmingly decorated, and quite modern with a comfortable bed and all the facilities you need, but there is no electricity or water. Therefore, electricity comes from powerbanks and batteries, and you can get water at the road. The kitchen, shower, and heater is gas-operated.
The 21 m2 cabin is equipped with a double bed and a sofa bed. There is a small dining table with room for two people and a living room. The kitchen has a gas stove and all the necessary kitchen tools. A wood stove makes it possible to heat the cabin. There is also good space for storage.
The small annexe has a sofa bed with a mattress pad.
Outside there is a toilet, outdoor shower, two fire rings, an outdoor kitchen with an outdoor fireplace, kettle grill, pizza oven, and two gas burners. You can easily cook in the green surroundings when the weather is good. Lake Karlsø is found a 10-minute hike from the cabin. There is a dinghy and a pedalo that you can use for free when staying in the cabin.
Prices and booking
The cabin and annexe is booked together and is available all year. On the owners' website you can get an overview of accessibility in the calendar and see prices. Book by contacting the owners by phone or mail.
Sheets, towels, coffee/tea, fulle-charged powerbanks, and batteries are included. There is also firewood, basic toiletries, and spices. There is also feed for deer, foxes, and birds, so you can invite the local animal life to come up close.
Experiences nearby
Slagballe Hills is found halfway between Bryrup and Brædstrup in the area called Bakkelandet. Brædstrup is a cosy little commercial town with good restaurants, and activities. In Bryrup you can try riding on a locomotive on the vintage railway Bryrup-Vrads.
There are also many popular nature attractions and routes nearby. You can find inspiration for experiences in Bakkelandet on this page.
Destination Kystlandet © 2023