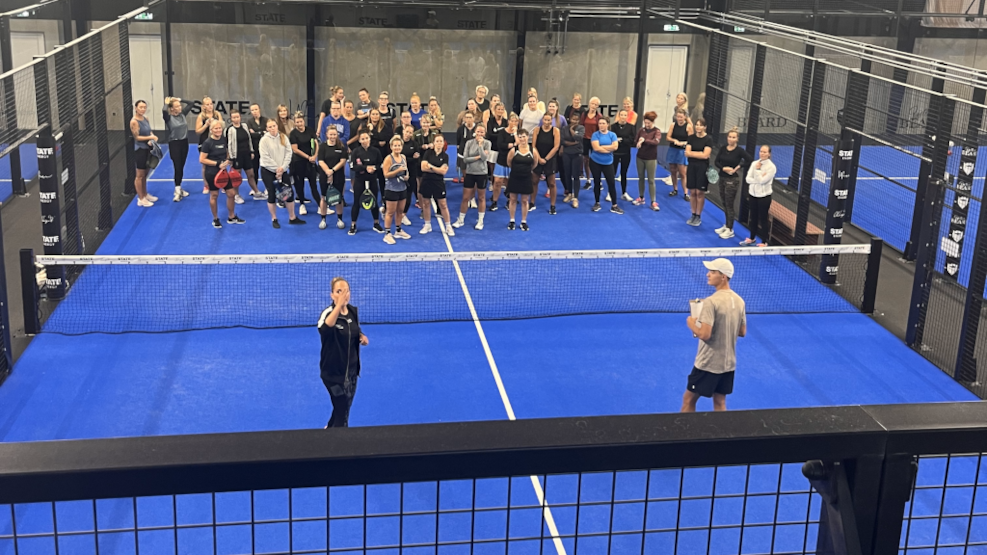 Racket Club Stensballe
This padel centre in picturesque surroundings at Stensballegaard Golf Club is your opportunity to try padel tennis. No matter if you are experienced or beginner, you can come here and play just once – no mandatory membership.
Padel centre in Stensballe
This paddle centre in the neighborhood Stensballe in Horsens is your opportunity to try the fast-growing sports called paddle tennis. If you are a tourist looking for a fun activity with the family, or a citizen seeking an active hobby, you can easily test this sport is for you. Racket Club Stensballe has five double courts that you can book. There are also changing rooms, shower rooms, and a café serving refreshments in the centre as well as a small shop selling rackets and clothing.
A fun sport for all
Padel tennis has gained ground in recent years. You have probably heard of it but have you tried it yet? Padel is a combination of tennis and squash. You play inside a cage in a marked court divided by a low net and approximately half the size of a tennis court.
It is said of paddle that it is a sport that is "easy to learn but hard to master" - which has the advantage that everyone can join in and have fun right from the get-go.
Paddle is played by at least four people and is thus a perfect (and healthy) family activity in which even the younger children can participate. The paddle is approximately the size of a typical beach tennis paddle, and the ball is similar to your typical yellow tennis ball.
Padel tennis is exercise, play, fun and games - all in one game.
Favourable opening hours
Racket Club Stensballe is open daily from 6:00 a.m. to 12 p.m. In other words, you can play whenever it suits you. But please note that you must book in advance.
Book a court
You can read more about the centre and book a court at Racket Club Stensballe's website. We recommend that you book some time in advance since the courts are most often in use. You can get a 50% discount with your first booking with the code "STENSBALLE50" which allows you tyo try the sport at a good price.
Racket Club offers padel courses, intro courses, private coaching as well as tournaments. As a member of Racket Club you get access to all of this and get a discount when booking courts.
Since you are already here
Racket Club Stensballe is located next to Stensballegaard Golf Club, and after playing a game of padel you should consider visiting Stensballegaard's restaurant/bar for a meal or cold drinks that you can enjoy with an amazing view of the golf course.
Stensballegaard is placed scenically in beautiful nature, and you can choose to go for a walk in the forests nearby or to the popular beach, Husodde Beach, a few hundred metres from the centre.
The centre is 6 kilometres from the centre of Horsens.  There is a parking lot outside the door and the city busses run on a regular basis.
Destination Kystlandet © 2023