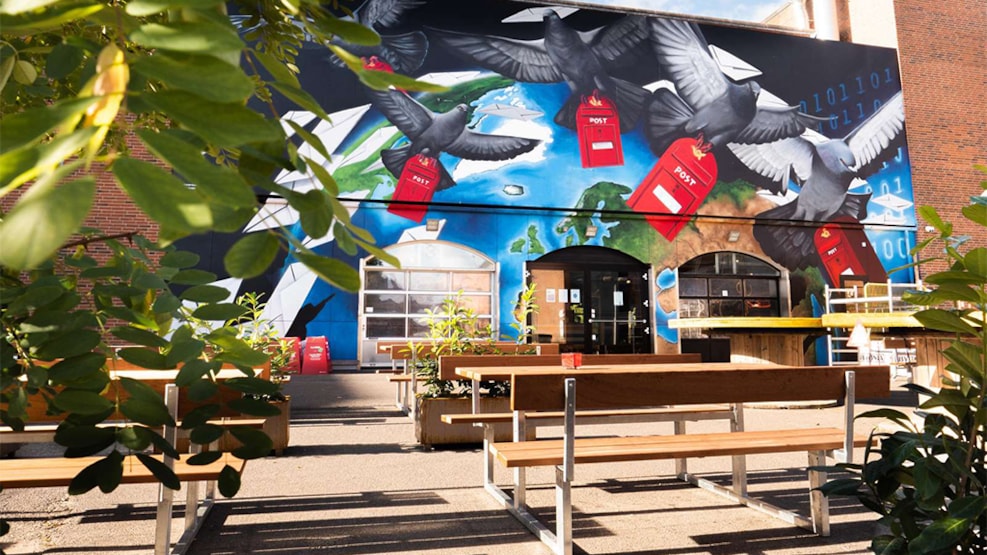 Posthuset Street Food
Taste the world at Posthuset Street Food In Horsens.
Posthuset Street Food is temporarily closed
****************
Finally! Horsens has its own street food market – Posthuset. Located only a few meters from the shopping area Søndergade and only ten minutes from Horsens railway station and the new VIA Campus, the way is paved for Posthuset to become the central meeting and hangout-spot and food-mecca in town.

Posthuset is set apart from other street food markets, as Posthuset offers 100% indoor facilities, which are newly renovated- and equipped with sustainable materials and furniture.
Even though the design is industrial and is based on the history of the building, this street food experience differs from the urban 'warehouse experience' that the street food universe is most often known for.
Posthuset – more than just street food.

Posthuset Street Food is located in the old post office, which has been modernized and rebuilt with a focus on the historic details.
All the food stalls are located in Posthusets ground floor, where you will also find the entrance and the indoor dining area. For the little ones there is a cosy play area with a foam floor, drawing tools, small tables and chairs and an electronic Postman Patt car.

On the top floor you will find the wintergarden – a cosy and relaxing area with recycled furniture, shelves with books and board games for free use, and lots of plants and soft lighting. The wintergarden is ideal for a cosy afternoon for the study group- or everybody who needs a small break from the vibrant life of the ground floor.
You will find toilets on both floors.

The outside area and the Orangerie

The old parking lot of Posthuset has been transformed to one of the best outdoor lounges in town. Here, old trucks have been rebuilt into seating areas and a real fire engine from 1964 is parked between tables and benches. Orange parasols cover the floor and the wooden plateau in the middle is perfect for the short visits.

On the windier days you can go into the Orangery, which is built from old, recycled widows and ooze of French bohemian atmosphere with weaved café chairs and string lights in the ceiling. There are even electrical outlets in here so you can sit with a cup of coffee and work or study.
Get a taste of the world.
If you like the Danish classics or love to try something new and different you will find it at Posthuset. Almost all stalls offer budget-friendly small dishes, so you can taste a little bit of "the whole wide world" while you are at Posthuset. All the stalls prepare the food from scratch with fresh produce and Posthusets Gastronomic Chef Bryan Francisco ensures that the quality is top notch!

You can get gluten-free, lactose-free and vegetarian dishes at Posthuset.
See the 10 current stalls below or read more about them on Posthuset's streetfood overview.
Burgerboden (American)
DINI'S (Indian)
Haddock & Friends (Fish and Shellfish)
N-Joy Kitchen (Thai)
Saigon Kitchen (Vietnamese)
InDish (Indian)
A Chef's Pita (Modern)
Kardemums (Syrian/middle eastern)
Posthusets Café (Coffee, bread, and Cake)
Posthusets Bar

LOCAL – delicacies, farm shop and bottle shop

At Posthuset Streetfood you have the possibility to get a taste of the best of the regions' farm shops and local producers have to offer.

IN LOCAL you can e.g. find:
Flour and Oatmeal from Uldum Mill (Mølle)
Honey from the organic garden (Økologiens Have)
Sparkling wine and port wine from Brandbygegaard
Charcuteri and chese from Troldgården, Øko Ged og Grønt, og Osteriet Hinge
Beer from Lundumskov Bryghus
Fjord Cider
Seafood from FANGST
Organic dressing and herbs from Pipper & Esau
Selection and suppliers will vary by season.
Culture and events

Concerts, stand-up shows, and talks are only a few of the events you can experience at Posthusets Streetfood.
Follow Posthuset Streetfood on Facebook for the newest updates on events.

Have your event on the 1st floor.

Plan your wedding, your company party, your birthday, or your meeting or conference at the Posthuset and get the top floor for yourself.

Posthuset plans your event with your council and tailor the perfect day or evening, with food from one or more of Posthuset´s stalls, or another extern vendor. Together we will also find the right wine-menu, background music, and anything else you would wish for.

Read more about the opportunity to have your parties and events at Posthuset Streetfood.
Opening hours and parking

See Posthuset Streetfood's current opening hours here.

It is possible to park either by Posthuset (few lots) or at the parking garage at Levysgade (Two minutes' walk) or at the parking lot on Vitus Berings Plads (Two minutes' walk).
More culture and city life in Horsens

After a couple of enjoyable hours at Posthuset Streetfood, you may want to go and explore what Horsens has to offer.
See the full guide to culture and city life and find your next stop. Have a great trip!