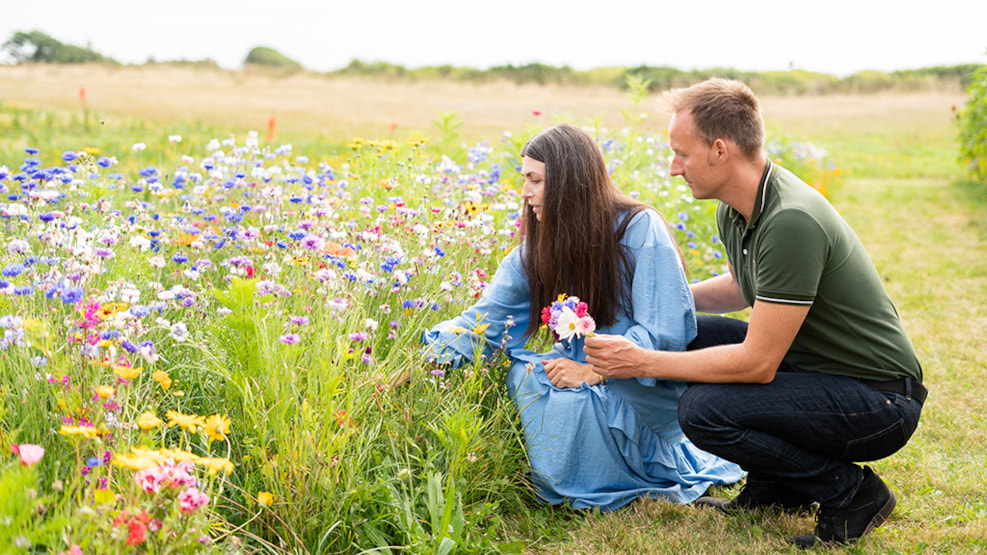 Pick-your-own flower fields on Tunø and near Odder
Make your own colourful bouquet of beautiful flowers from the colourful flower fields on the car-free island Tunø and by the main road between Hou and Odder. Here you can find the bouquet for the home, the holiday home, the boat or as a gift to someone you care about.
Pick your own flowers on Tunø
On the car-free island in the Kattegat you have the chance to make your own bouquet and cut them directly from the flower field. On the colourful field you can find tulips, irises, ornamental onion, Chinese peony, lilies, sweet williams, dahlias, sunflowers, gladiolus, and summer flowers. The current selection depends on the blooming period.
The field is located close to the island's eateries and attractions at Tunø's former festival site. Look for the big banner by the road. Enjoy a wonderful experience alone or together with your family and enjoy the beautiful view of the many flowers.
Now also on the mainland
You also have a chance to buy pick-your-own flowers on the mainland at the Odder Coast. Frilandsblomster have opened a field near Hou on the main road between Hou and Odder. This is your chance to cut flowers when you get off the Samsø or Tunø Ferry or when you need a nice bouquet for the holiday home.
How does it work?
The concept at Frilandsblomster is simple. Borrow a knife at the information board and cut the flowers you want. At the information board you can see the prices. Payment is cash.
When is it open?
Since Frilandsblomster is a self-service concept, you can cut flowers 24/7 – seven days a week.
As you know, flowers do not bloom all-year-round, and the selection differs depending on the time of year. The season is May-October.
Who are Frilandsblomster
Frilandsblomster is Denmark's biggest supplier of pick-your-own flowers with a large number of fields in Eastern Jutland, between Vejle and Aarhus. Frilandsblomster only uses bulbs and seeds of the highest quality. At Frilandsblomster they guarantee fresh flowers, since you choose and cut the flowers yourself.