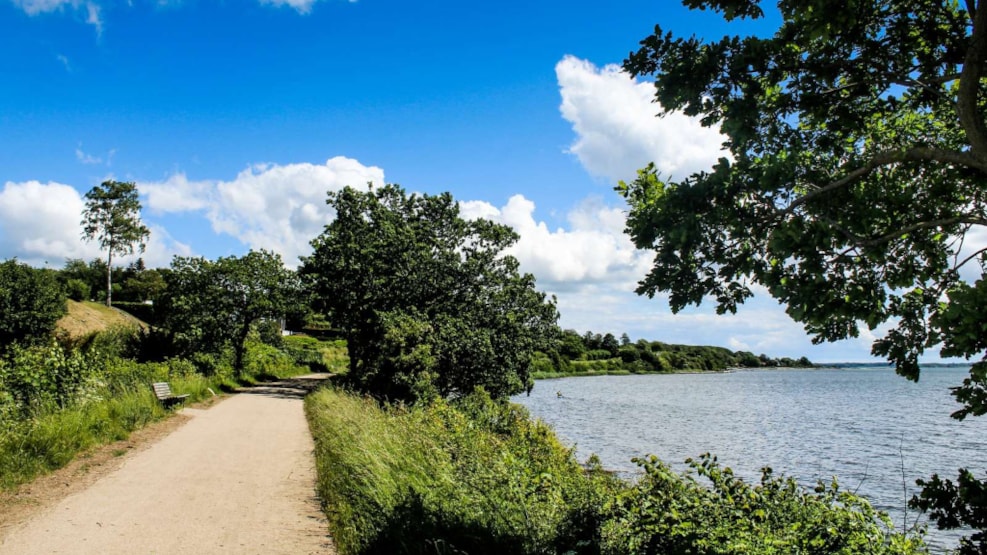 Package tour by bike: Sightseeing in Horsens
Want to go sightseeing in the scenic cultural city? Then embark on this self-guided package tour, which'll help you out by introduce you to beautiful nature, urban life, and everyday culture. Go grab some fresh air, move your body, and enjoy the captivating city in a different way!
A bike ride loaded with great experiences
Horsens offers a pulsating urban life, delicious cuisine, and fascinating street art. The city is surrounded by nature and forests, ideal for a hike or bike ride, and the inlet Horsens Fjord with beaches ideal for water activities.
If you would like to explore Horsens in a new way, then get on the bike and enjoy this 20 km roundtrip. The trip begins and ends right where you prefer. While on the route, enjoy a delicious lunch at Platform K, the new cultural hot spot in Horsens, and compete in a game of miniature golf, at Horsens City Camping's brand new course. The route description suggests several stops, so the day gets packed with great experiences.
When you purchase this package tour, you get access to a unique route around Horsens. The trip leads you past many wonderful places, both great attractions as well as the unique local spots. You ride on a mix of gravel path, forest path, and paved roads, so you get a good variation throughout the day.
What is included in the package tour?
The tour costs 100 DKR and includes a physical brochure and a digital map with a detailed route description. In addition, you get two coupons, one for lunch and one for miniature golf, with a total value of 140 DKR.
You can choose to do the tour as a day trip full of fun experiences and delicious food. However, you don't have to do the bike trip and redeem the vouchers the same day – the package tour is perfect for a flexible vacation, where freedom and relaxation are a high priority.
Where to purchase the tour?
Purchase the tour at one of the following places and begin you journey whenever it suits you.
You don't have a bike?
No problem! In Horsens you can borrow a bike for free several places. Merely return the bike to the same location after use. All bike locations are placed along the route, so the logistics are simple.
Do you arrive by car?
Would you prefer to use your own bikes - also not a problem! You can easily, park your car one of the following places for free:
Husodde Strand
Nørrestrand
Bygholm Park
Strandparken
Sundet
Find all parking options in the Coastal Land
More cycling in the Coastal Land
If you're not sore at all and tired of your bike, then there are lots of biking possibilities here in the Coastal Land both for day trips and a cycling holiday. There is the flat route The Nature Path Horsens-Silkeborg, which passes The Uncovered Bridge. If you prefer a bit more vertical metres, you can go cycling in Bakkelandet. Or if you are more into speed and flow, you'll also find several MTB tracks in the Coastal Land.