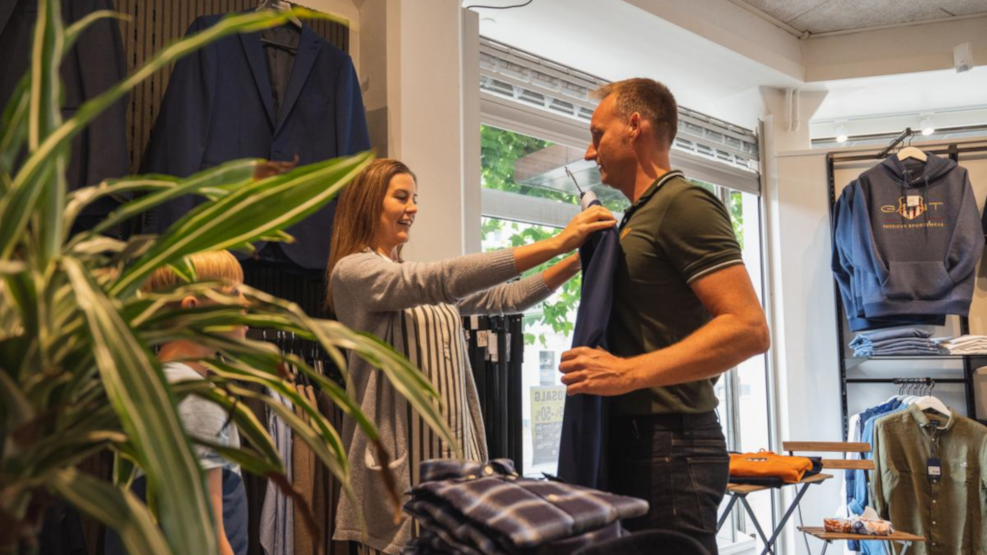 MR Lønskov Odder
This inviting menswear shop is located at the town square In Odder. The assortment ranges from casual wear to party clothes – from the biggest brands to less-known quality brands. Here, we guarantee that all men and boys can find new clothes for the wardrobe that is affordable.
The men's refuge in Odder
MR Lønskov in Odder is calling out for all fashion-conscious men and boys. The store is a safe bet when you are looking for new additions to the wardrobe.
You will find several modern brands that you will likely recognize. Quality brands such as Matinique, Hilfiger, Hugo Boss, JBS, Les Deux and Gant are accompanied on the shelves by carefully selected less-known gems that will make your clothes stand out. You can often find bargains on sale, and the return policy Is exceptionally tolerant.
The store is quite versatile and can dress both the teenager, the businessman, and the senior for parties and work as well as casual days at home. Regardless of whether you are looking for summer clothing for the holiday at the Odder Coast, a tie, or a new pair of men's shoes, you will find it here.
You can find all sizes from XS to 6XL – and the price range is just as versatile. So all men – regardless of age, wallet, and preferences, can find new fashionable clothes.
Meet Denmark's friendliest staff
They always meet you with a smile when you enter, the staff. And they are, not least, very skilled at dressing customers for any occasion. For them, it is an honour to the perfect style and size so you can show your best side. MR Lønskov will go a long way to ensure satisfied customers, and they aim for you to leave the store with a smile on your face, new clothes in the shopping bag, and a desire to come back and visit the store again.
In the city centre
With its location at the town square (Torvet), you cannot find a more central place in Odder. The city has an impressive shopping district for a city with only 11.000 inhabitants with lots of specialty shops, activities, and interesting restaurants. We recommend that citizens and tourists in and around the Coastal Land go shopping around Odder's pedestrian street. If you are staying in a holiday home or at a camp site at the Odder Coast, then make sure to visit the city that is sometimes referred to as Denmark's biggest village.
Destination Kystlandet © 2023