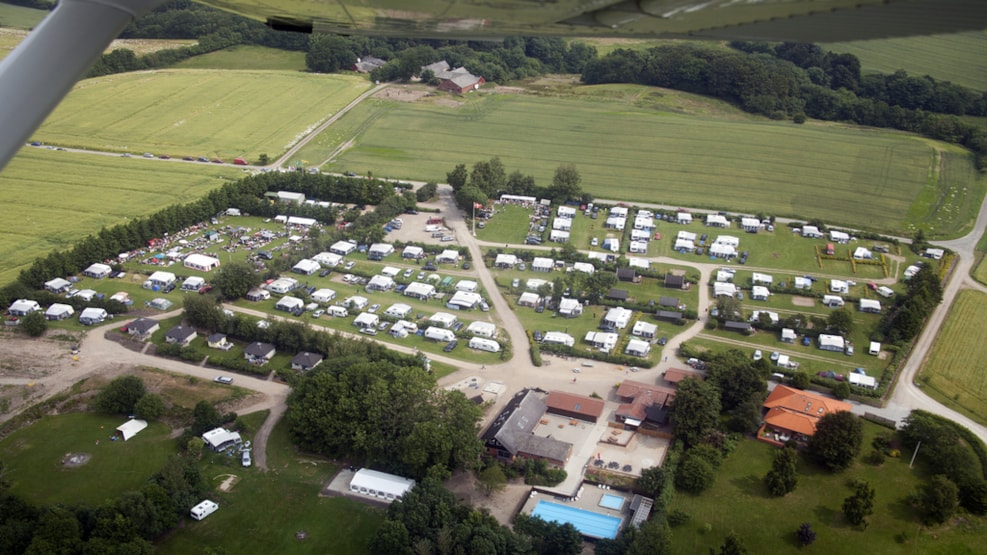 Motorhome site at Løgballe Camping
In scenic surroundings on the shores of Vejle Fjord, you find this motorhome site with plenty of room. Here, you are close to the major attractions of East Jutland and only a stone's throw from the resort town of Juelsminde.
Safe and flexible accommodation
On the Juelsminde peninsula, you find Løgballe Camping in a quiet and natural setting. As it is quite close to the coastline, the area has good hiking and cycling routes in breath-taking surroundings.
The caravan site has a larger area for motorhomes outside the barrier. The site has a good surface of stable gravel and nice surroundings as it is located adjacent to a forest.
Naturally, you are welcome to use all the facilities of the caravan site, such as bathing and toilet facilities, swimming pool, breakfast scheme and much more.
It has polite self-service and good opportunities for being connected to electricity. Motorhomes can also tank clean potable water and discharge wastewater while using the site.
Would you rather spend the night inside the barrier of the caravan site?
If you are staying for a longer period of time or prefer the homeliness of the caravan site, then feel free to park your motorhome on the caravan site itself. Caravan site rules and rates then apply.
Do I have to book a space?
You do not have to book a space at the motorhome site. Just turn up – the first-come, first-served principle applies. However, there is room for a lot of motorhomes, so there is ample opportunity.
If you would like to spend the night at the caravan site, you need to book in advance. Contact Løgballe Camping using this link or telephone 7569 1200 to enquire.