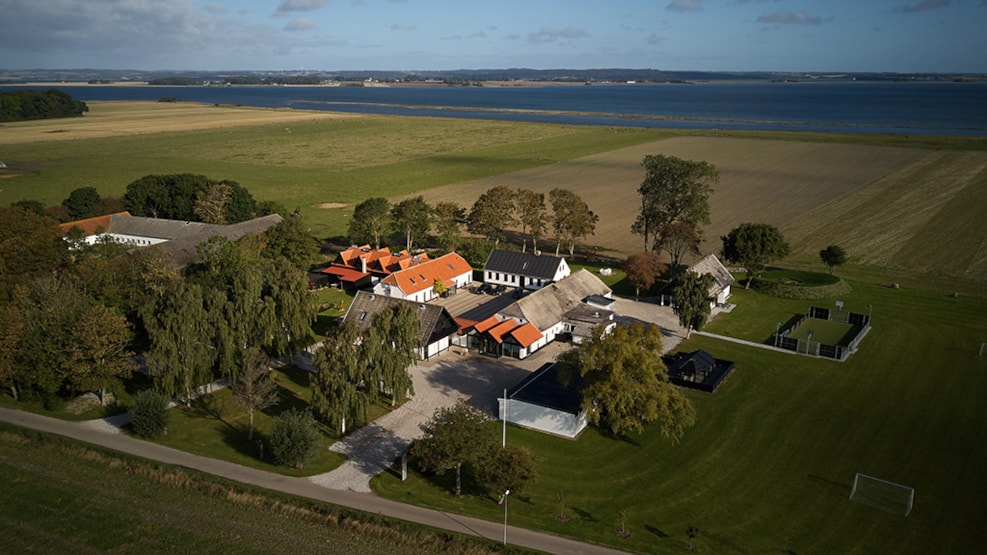 Livsstilsefterskolen Hjarnø
Livsstilsefterskolen is a quiet oasis in the middle of this beautiful island in Horsens Fjord. You can participate in various activities or, during the holidays, you can rent the school grounds for events.
A school that focuses on health
As a continuation school, Livsstilsefterskolen in Hjarnø focuses on health and lifestyle for young people in year 8, 9 or 10. The school was recently renovated and has excellent facilities for the use of both students, guests and companies, and associations rent the school areas and grounds.
Perfect for many events
The areas and facilities of the school provide an ideal setting for many different types of activities. If you are looking for the right place for a course, team building, an excursion, a yoga retreat, theme days, or something completely different, then the unique setting on Hjarnø is a good one for a memorable experience.
Livsstilsefterskolen i Hjarnø can also provide small activities or put you in contact with skilled instructors and lecturers.
School facilities
Lecture hall seating an audience of 100, including all the AV equipment you need and wi-fi. It can be arranged according to needs for e.g. conferences, group work or yoga.
Meeting room with all the AV equipment you need and wi-fi.
2 class rooms
Gym
Recreational area with pool table and table football
Wellness area with spa, cold-water tub and sauna
22 rooms sleeping a total of 60 guests
Dining hall seating 100 guests. You can prepare the food in the large kitchen yourselves or order healthy and delicious food through the school.
Opportunities for outdoor activities in the playing fields of the school as well as the campfire site and grounds.
Participate in school activities
During the year, the continuation school arranges several events that you can sign up for. These events are not only aimed at young people but at several target groups. Examples of events are outdoor camp for 11-15-year-old boys, a healthy week for seniors and island vacation for grandparents and their grandchildren.
On the Livsstilsefterskolen website, you can get a clear idea of upcoming events.
Book Livsstilsefterskolen for your event
The school facilities are generally used by the students but, during the holidays, it is possible for others to rent the premises. Contact Livsstilsefterskolen Hjarnø using the above contact details and ask for an offer for exactly the programme for your event.
Destination Kystlandet © 2023