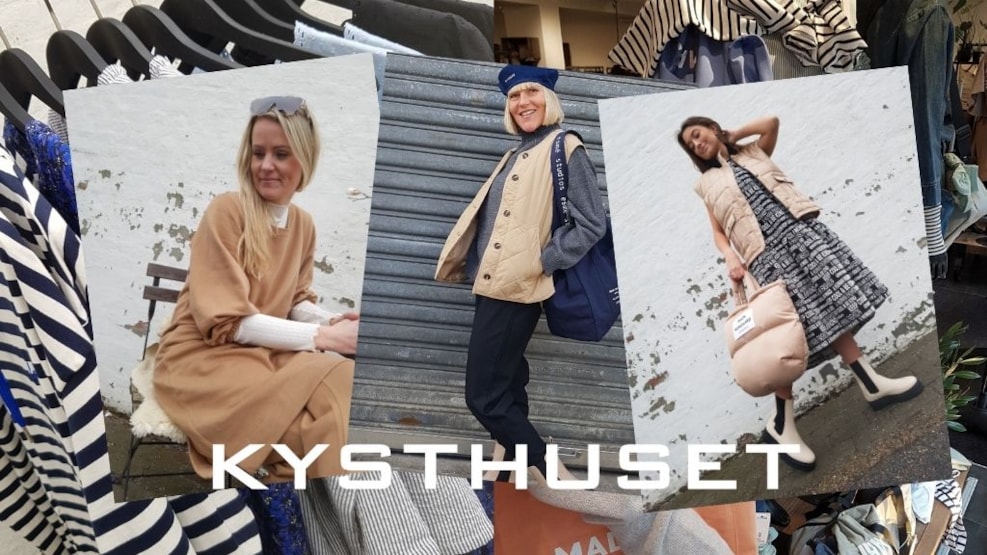 KYSTHUSET
Visit this clothing store in the centre of Odder which aims at fascion-conscious women. Gaze upon the newest collections of many well-known and beloved designer labels. The skilled personnel are ready to assist you in finding the perfect addition to your wardrobe.
Welcome to a world of exquisite fashion
Mos Mosh, Stine Goya, Moss Copenhagen, Mads Nørgaard, Rabens Saloner, Lolly's Laundry, Neo Noir, Rabens Saloner, Sofie Schnoor, Billi Bi, Bruuns Bazaar, Munthe, Second Female, Pernille Corydon, Five Units, Gai+Lisva, Global Funk, Project A.J.117, Philip Hog, Markberg… are just a few of the many labels you can find in KYSTHUSET.
KYSTHUSET is a large clothing store of 175 square metres with a stylish and rustic decour. It is located in the main shopping street in Odder, just a 20-minute drive from Aarhus.
At KYSTHUSET they know how important clothing is to other people's assessment of your charisma and personality. Therefore, they specialize in offering the best in fashion clothing for women who care about what they wear and who want access to the latest fashion without compromising their own style.
In the store you will find fashion clothing that meets the demands of modern women who likes the well-known classics but also wants to try new styles once in a while.
The main focus is popular Danish quality labels combined with hand-picked styles from the upcoming fashion scene.
For the fashion-conscious woman
It can take many years to create your own style, but the process can be very exciting. At KYSTHUSET the selection makes it easy for you to experiment with different styles and looks. They will gladly assist you who already know exactly what you are going for and you who seek assistance and need to try a few items before making your choice.
Explore the selection of trousers, blouses, dresses and high-quality coats and look forward to finding a new addition to your wardrobe. KYSTHUSET are looking forward to seeing you in their universe of women's fashion where you can always find the perfect outfit for any occasion.
Visit the webshop
In addition to the physical store, KYSTHUSET also has a large web shop. So, if you do not have the chance to come to Odder, you can still buy new clothes at home from the couch. Feel free to have a look at the web shop before visiting the store for personal service.
The web shop customers can always look forward to fast delivery.
Follow KYSTHUSET on social media
Check out KYSTHUSET on Facebook and Instagram where they regularly give tips and show the newest additions to the assortment worn by their own models. KYSTHUSET post every day about clothing, shoes, and accessories. You get a 10 % discount on all new additions – both in the store and the web shop.