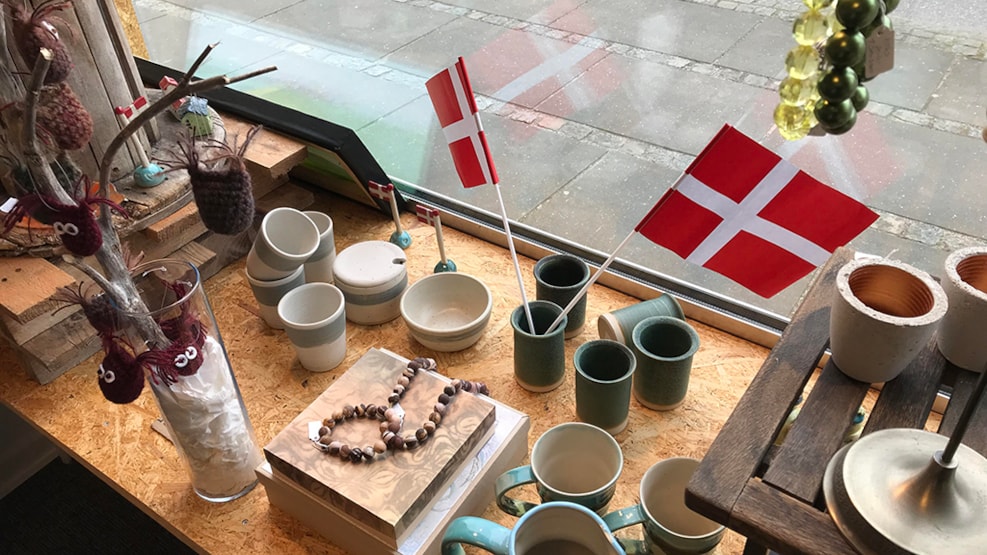 Kunstpletten (Art Shop)
In the center of Hedensted lies this art universe, where local artists showcase and sell their works. Here you can find exciting art, craftsmanship, and applied art, all of which are handmade and unique. There are always 13-14 active artists selling and exhibiting in the store.
Art and craftsmanship for every taste
There are plenty of exciting items on the shelves at this art store in Hedensted. Here, local artists have the opportunity to rent a stall from which they can sell their art. In the 162 m2 store, the many stalls offer a wide variety of art and products. There's definitely something for you too.
In the store, you can find paintings, upcycled clothing, ceramics, jewelry, handicrafts, wickerwork, glass art, metalwork, applied art, and much more. So stop by the store if you need a new bag, a lamp, or decorative items for your home.
Workshops
Kunstpletten is staffed by artists who have a stall in the store. They are always ready for a chat and expert guidance. Occasionally, you can witness the artists in full swing, creating their artworks. For example, you can see Svend Åge when he's pottery throwing in the store.
Keep an eye on Kunstpletten's Facebook page, where upcoming working workshops are presented. Here, you can also see a selection of the exciting unique products sold in the store.
Every month, you can experience a new artist in the store who is allowed to showcase and sell their works. The Artist of the Month is also presented on the Facebook page.


Opening hours
Kunstpletten is open from Monday to Saturday every week. You can find the exact and current opening hours on Facebook.
Part of the Coastal Region Art Map
Kunstpletten is one of many interesting local art experiences. On this page, you can download the map and get inspiration for galleries, artisans, and workshops in the area that covers Odder, Horsens, and Hedensted.
Destination Kystlandet © 2023