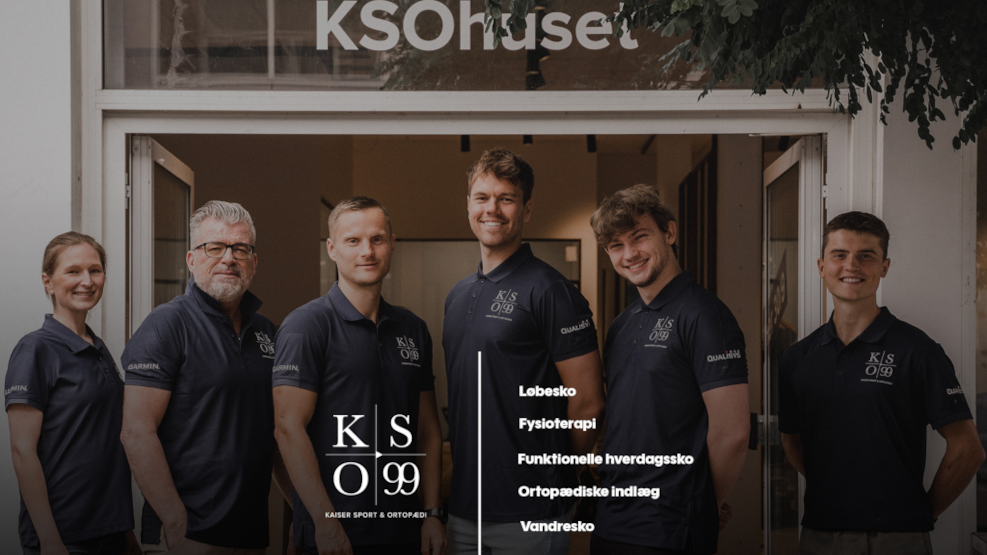 Kaiser Sport & Orthopaedics (Ortopædi) Horsens
Kaiser Sport & Orthopaedics (Ortopædi) is more than just your regular running- and hiking store. It is also a clinic with physiotherapy, massage, dietary advice, and treatment of running injuries. This means that you get a unique expertise in equipment for outdoor activities.
Denmark's best counselling in running shoes and clothing
With a unique orthopaedic and physiological expertise, you can look forward to exceptional service and know-how when purchasing new running or hiking shoes at Kaiser Sport & Orthopaedics (KSO) in Horsens. The staff will take the time necessary to find the right solution for you, based on you, your feet, and your needs. Book an appointment for a running test or come by without prior arrangement and get the best counselling in town.
New equipment for the run or hike
KSO has a big selection of shoes, clothing, and equipment for running and hiking, all carefully selected to comply with KSO's high quality standards.
The selection of footwear includes running shoes for training, contests, and trail running as well as hiking shoes, indoor sports shoes, sandals, and safety shoes.
There is also an assortment of running clothes for men and women, for all season and needs, as well as electronics, training equipment, sports bandage, and a selection of insert soles – including Kaiser Sport's own individually manufactured soles.
Do you want to check the assortment before visiting the store? Then stop by Kaiser Sport's webshop and see which brands the shop carries.
Clinic with physiotherapy and treatment of sports injuries
Kaiser Sport's clinic is located in connection to the store. Here, you can get treatment for injuries and sore muscles. KSO offers physiotherapy, osteopathy, massage, orthotic insoles, and also has running coaches and dieticians associated with the store.
Fill in the online form at KSO's website and get contacted by KSO's health professional team in regards to treatment.
Opening hours
Kaiser Sport & Orthopaedics Horsens is open Monday-Saturday, and the clinic is open on work days. You can see the current opening hours on the website.