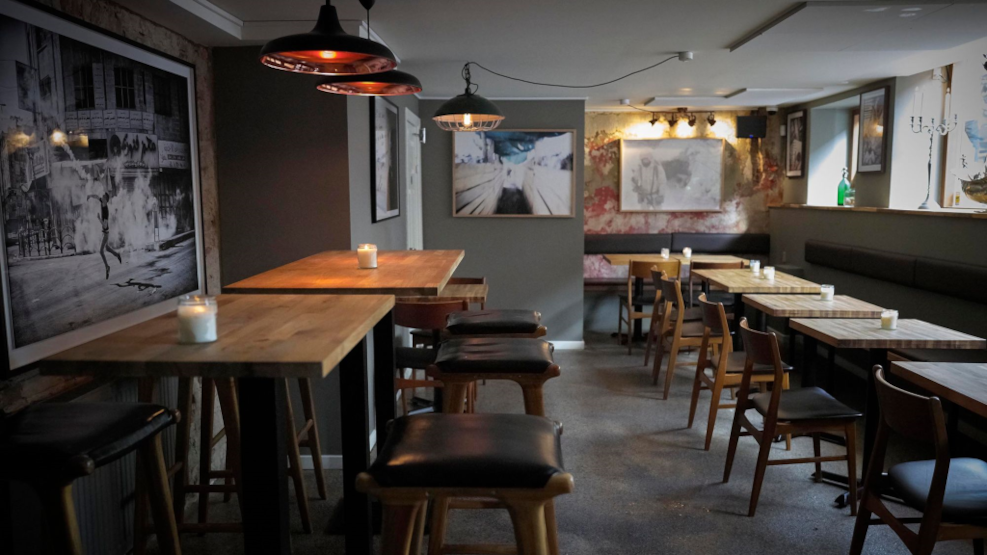 Jacob's Wine & Tapas (Jacobs Vin & Tapas)
Are you looking for a cosy setting for social dining and quality tapas? Or maybe just a good glass of wine with your friends? Jacobs in the heart of Horsens offers Spanish delicacies and Jacob's characteristic favourite dishes in a warm and inviting setting.
Inviting eatery in the centre of Horsens
Located in a charming basement on Jessensgade in the city centre, this modern tapa- and wine bar serves delicious food and good wine flavoured with great service. Here, the love of good ingredients is given pride of place, and you are in for carefully selected quality – no matter if you want a versatile social dining tapas menu for dinner or a cosy evening with good drinks.
The owner Jacob Steentoft is an acknowledged press photographer. The dark walls are adorned with his thought-provoking photos from the world's hot spots. The restaurant has heavy wooden furniture that is perfectly suited for the charming basement room.
Classic Spanish and classic Jacob
The food menu at Jacob's Wine & Tapas is not particularly extensive. On the other hand, it only offers carefully selected dishes that cover all needs of tapas-lovers. In addition, Jacob Steentoft has added his own favourites to the menu, including Belgian waffles with cheese custard, Parma ham, and parmesan, and brioche toast with truffle mayo.
You can choose to buy one dish for yourself, but we recommend that two or more people share one of the predefined menus with 5-7 dishes. This way, you will make your way around Jacob's kitchen with a diverse range of taste experiences.
The menu also offers small dishes such as fried padron peppers and and tomato/chili flavoured patatas bravas with aioli that are perfect accompaniments to a glass of wine or craft beer.
The local wine bar
Jacob's is the ideal choice if you are looking for the best setting for a cold glass of white wine with your friends, a craft beer, or a cocktail. They have a comprehensive selection of wine, beer, and spirits. The personnel will gladly assist you in choosing the wine that perfectly matches your taste. The Spanish San Miguel beer can be ordered on draught.
The cocktail menu includes classics such as Gin Haas, Aperol Spritz and Espresso Martini as well as a few other interesting and creative cocktails.
You can also enjoy a great cup of barista coffee or a cup of warm chocolate here.  
Table reservation
Jacob's Wine & Tapas is open Tuesday-Saturday during evenings. It is open until late in the evening so you can easily use Jacob's as a relaxed bar in the late evening/early night. The restaurant is also open for lunch on Saturdays.
You can see the exact opening hours at Jacob's Wine & Tapas' website.
Jacob's Wine & Tapas is an intimate eatery with limited seating, so we recommend that you make a table reservation in advance. Follow this link for online table reservation.