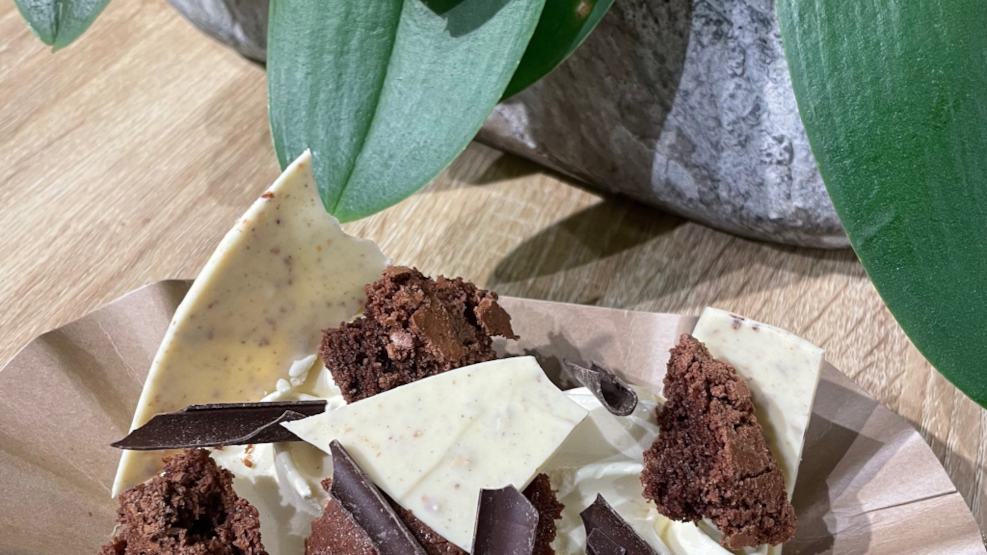 The Ice-Cream Cake (Is-Kagen)
Get a unique ice-cream experience at this unique ice-cream parlour in Horsens. Here, you can enjoy delicious, homemade ice-cream in beautiful, creative designs. At The Ice-Cream Cake you can enjoy impressive ice-cream cakes, Danish soft serve ice cream, homemade cones, popsicles with exciting toppings, Belgian waffles and much more.
The most exciting ice cream shop in town
At a very central location in Horsens, the chef Mark Andreæ aims to create unique taste experiences through high-quality ice-cream using the best ingredients. The ice-cream tastes heavenly – and you can eat it with your eyes first.
Every day, Mark produces fresh ice-cream in the shop's backroom, using his experience and craftmanship as well as unique designs. The milk and cream are organic, and all other ingredients are carefully selected.
Delicious ice-cream on the menu
The Ice-Cream Cake has a wide selection of products. You can find all the classic types of ice-cream that you will typically encounter at a Danish ice-cream parlour, including ice-cream cones with toppings, soft ice, ice-cream pots for the freezer, and delicious popsicles. In addition, you can also try one of the ice-cream cakes that lend its name to the shop. They come in different sizes, flavours, and designs.
You can also enjoy the ice-cream with Belgian waffles and homemade cookies.
Drinks
Quality coffee, hot chocolate, milkshakes, slushice, wine and cocktails are on the menu. Can we tempt you with strawberry daiquiris with the Ice-Cream Cake's own strawberry ice-cream, iced coffee, or freshly made, homemade lemonade on a warm summer's day?
You can see the Ice-Cream Cake's whole menu on this page.
Order ice-cream to-go
At The Ice-Cream Cake's website, you can order ice-cream to-go. The ice-cream will be ready for you when you arrive.
Private dining and catering for events
Mark from The Ice-Cream Cake is a trained chef and the former chef from the restaurant at Koldinghus Castle in Kolding. He still has his passion for food, and you can benefit from his skills by ordering food for your party or event from The Ice-Cream Cake.
He offers anything from shellfish platters to Nordic tapas, charcuteri to menus for New Year's Eve. Are you hosting a wedding, baptism or birthday? Mark offers to come to your address and cook. Alternatively, you can book private dining for 10-25 at the Ice-Cream Cake premises.