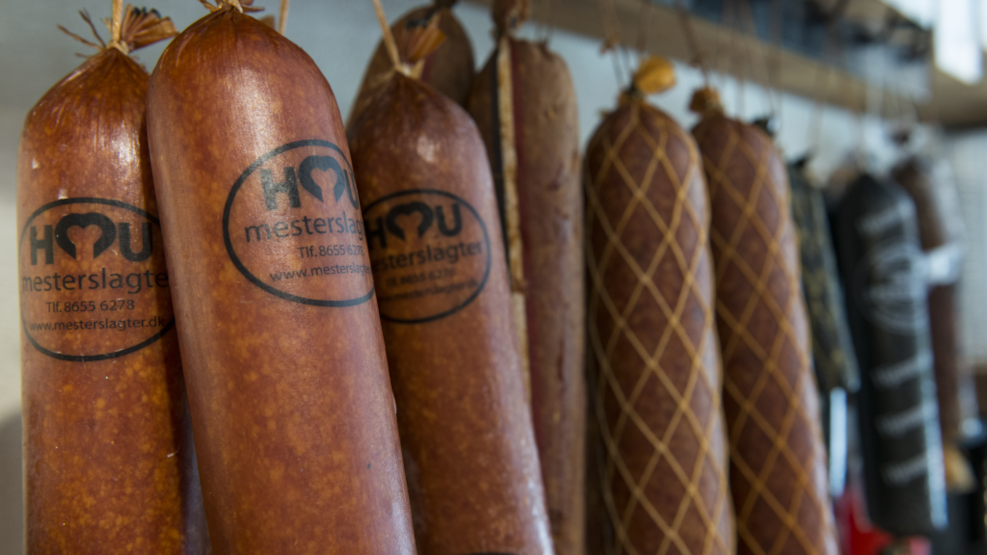 Hou Mesterslagter
Look inside this traditional butcher's shop in Hou, which has a huge selection of delicious meat cuts, cold cuts, delicacies and ready meals. You will always find meat here of the highest quality and a high level of service.
More than just a butcher's shop
The moment you step through the front doors of Hou Mesterslagter time stands still and you will feel like you are back in the good old days when the butcher's shop was a natural gathering point in society. 
No matter if you are looking for a steak, pork, cold meat for sandwiches, a roast pork belly burger, a typical Danish frikadelle (meatball) for lunch or just a conversation about cooking, you have come to the right place. 
The owners' love and dedication to their profession shines through the well hung meat cuts from pigs, cattle and poultry. 
They are known for their high quality and takes pride in listening to customers and understanding their needs and he is more than happy to give advice. 
If you are in the Hou area you should stop by Hou Mesterslagter and relive the proud Danish traditions. 
It is all about homemade food
Hou Mesterslagter is the quintessence of  traditional craftsmanship. With a selection spanning from poultry to beef, pork, lamb, salami, sausages, pre-cooked meals and cold meat, there is something for everyone. It is with good reason that Hou Mesterslagter claims that everything is possible. 
You can also find a large supply of homemade delicacies and ready to heat meals made from traditional Danish recipes. 
The food is always made from scratch using only fresh ingredients in an old-fashioned manner. We never take the easy way out during preparation.
Great quality since 1969
The butcher shop has existed for more than 50 years. A lot has happened in the traditional butcher's shop since Ernst and Kathe Enghøj took over the shop in 1969 and later passed it on to their youngest son. 
And the atmosphere? It has been maintained through the years. The atmosphere is delicious and all of your senses are stimulated. It must be an experience to visit the butcher's shop - that is the philosophy at Hou Mesterslagter. 
Get the food delivered to the holiday house or the camping site
Hou Mesterslagter offers to deliver food, meat and other specialties. You can order food and have it delivered within a radius of 40 kilometres. This is very well-suited for you if you are staying in a holiday home or on a camp-site and want some quality meat for the barbeque. 
The store is located at the harbour in Hou so you can order the food beforehand and pick it up on the way home from an excursion to the island of Tunø. For instance cold meat, sausages, smoked meat and salads. 
In our assortment you can also find fast food such as burgers, sandwich and pizza.
At Hou Mesterslagter you can order:
Meat packages
Food for babeques
Food for christmas lunch
Cheese- and sausage boards​
Buffet
Traditional open Danish sandwiches
Starters
Main courses
Deserts
Fast food
… and much much more!
Contact Hou Mesterslagter if you want to learn more - or visit the store where the owners or one of his skilled employees are ready for a chat. 
They are looking forward to seeing you.