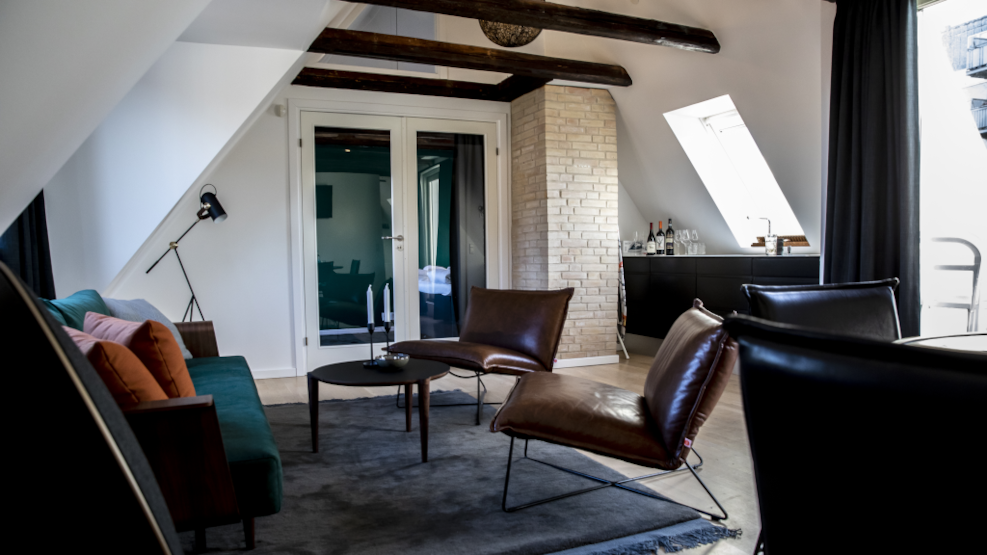 Hotel Møhr
An amazing loft suite in the heart of Horsens in the Latin Quarter with the small charming gourmet streets Grønnegade and Thonbogade, Horsens Ny Teater and access to the newly renovated pedestrian street.
Full loft suite with the cosiness of exposed ceiling beams and plaster ceiling consisting of a bedroom with French style doors leading to a large living room, tea kitchen, bathroom and own entrance.
The bedroom has a large double bed, dressing bench, mirror and a hanger rail.
The large living room with plaster ceiling and exposed beams has a nice sofa area, a dinner/work table with room for four people, tv, Beoplay A9 and a tea kitchen.
The tea kitchen has an Illy espresso maker, refrigerator and a small wine bar where you can buy our carefully selected wine.
The loft suite was recently renovated and decorated with designer furniture – Nordic design combined with a warm southern expression.
The price per night is 900 DKK.
Information about Café Gran and Restaurant Møhr:
www.CAFEGRAN.dk
Being crowned as the best eatery in Horsens 2018/19, Café Gran is the café in Horsens that embraces everyone. With a menu spreading from breakfast, brunch and traditional open Danish sandwiches to 3-course dinners, Gran offers small intimate experiences and all-night experiences. On Fridays and Saturdays, we sell cocktails until 2 AM.
www.restaurantmoehr.dk
Get spoiled with carefully selected cuts and 'Smagen af Møhr', an all-night experience based on social dining and great taste sensations.
We are looking forward to spoiling you.