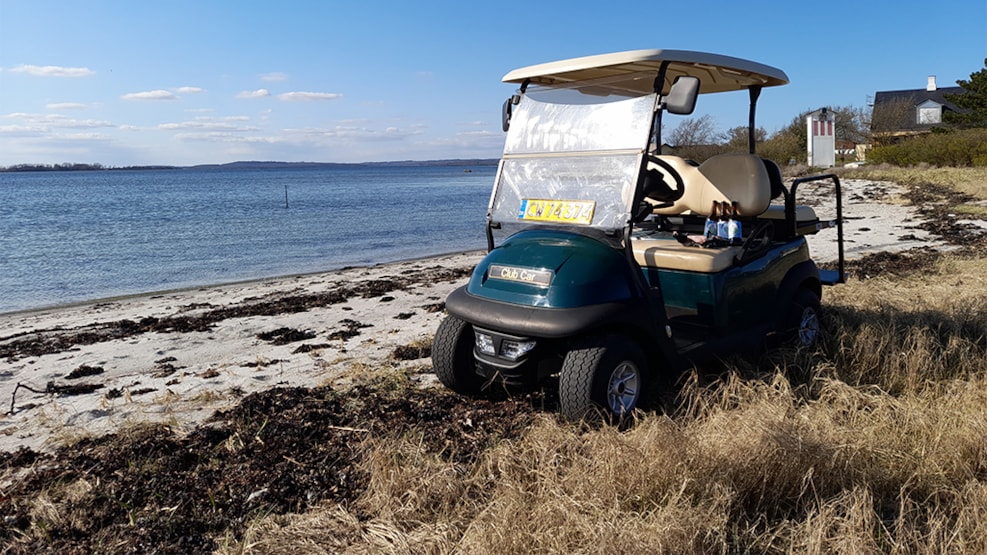 Hjarnø Golf Cart & Bicycle Rental
Would you like to explore the lovely island Hjarnø by bike or behind the wheel of a golf cart? Both are possible at the harbour on Hjarnø where you can rent per hour or per day.
Get around easily on a beautiful island in Horsens Fjord
Hjarnø Golf Cart & Bicycle Rental is your opportunity to get around the island easily and comfortably. Leave the car on the mainland at the ferry harbour in Snaptun and you will find the golf cart and bicycle rental just as you get off the ferry on Hjarnø. It is clearly signed so you will not miss it.
Golf carts
If you have a driving license (B) you can rent a golf cart. The golf carts have two folding seats, so it has room for four people. This is the perfect solution for the family that wants to get around the island fast or for the walking impaired.
Prices for renting golf cart:
Shoulder season: 125 DKK per hour – 300 DKK for three hours
Peak season: 175 DKK per hour – 450 DKK for three hours
Bicycle rental
In addition to golf carts, there are also 10 bicycles available. The standard city bikes can be adjusted and used by anyone from 8 and up. One bicycle comes with a trailer so little children can also be transported around the island.
Prices for renting bicycles
20 DKK per hour – 50 DKK for a day. Bicycle helmets are included.
Booking
Feel free to book in advance to ensure that there is a golf cart or bicycle available when you arrive at the island. You can book by mail, phone or by messaging the Facebook page.
Please be aware that you are not allowed to leave the island with your rented vehicle. It is only used for getting around the island.
About Hjarnø
Hjarnø is located in Horsens Fjord, quite close to the mainland, with a transit time of only five minutes. Hjarnø oozes of authentic Danish island atmosphere that is easily accessible with more than 30 daily departures. The small, but charming island offers beautiful nature, historic attractions, fine beaches and ample opportunity to enjoy an ice-cream as the light ocean breeze blows.