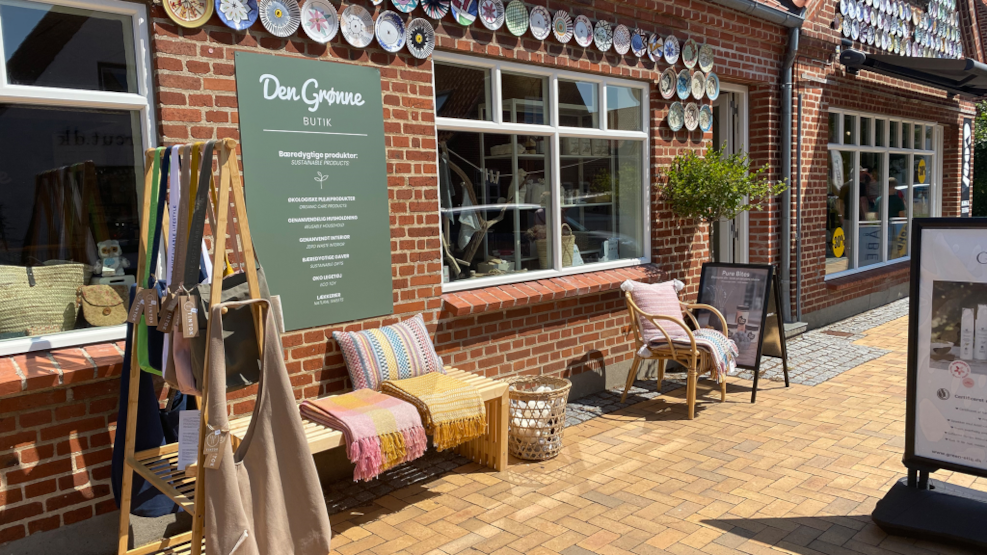 The Green Shop (Den Grønne )
This shop at a central location in Juelsminde has lots of sustainable products. Many products are plastic-free, recyclable, and biodegradable which is your guarantee of a good, green, and sustainable purchase that allows you to take responsibility for the environment.
The green and organic choice
Tina Ingerslev runs the webshop The Green Shop (Den Grønne Shop) where she sells interior decoration, kitchen utensils, cleaning articles, body care and other products that are all produced in such a way that they leave a minimal impact on the environment.
In addition to the webshop, she also has a physical shop at the central shopping street in Juelsminde, Odelsgade. Here, we guarantee that all products are carefully selected. It is the owner's great passion and dream to help us consumers to make climate-friendly choices. In the shop you can feel, smell, and see the products before a purchase, and get competent guidance and service from Tina who will gladly give advice and inspiration for a sustainable lifestyle.
Products on the shelves
Yes, the products are green and biodegradable, but they are also a good quality. Tina has a sixth sense for quality and aesthetics, so you can be sure that the products will adorn your home and work as intended.
Among the home interior products, you will find beeswax- and soy candles, decorative platters, flax linen, eco-friendly napkins, rugs, pillows, pottery, and much more.
In the kitchen department you will find kitchen utensils and baking tools made from bamboo and silicone, reusable coffee filters, fabric bags, cutlery, and more.
There is also a selection of eco-friendly cleaning articles and microfiber-free cloths. And finally, there is a selection of body care and hair care products ranging from vegan/organic toothpaste to package free shampoo bars, sponges, and lotions.
But we are not supposed to reveal it all. Come and see for yourself.
Give a sustainable present
The Green Shop has many products that are well-suited as gifts for any occasion. Tina is ready to help you put together a gift basket with delicious products for him, for her, for the kitchen, for the home, or for pampering. Plus, the gift wrapping is of course also environmentally certified.
Opening hours
The Green Shop in Juelsminde is open Monday as well as Wednesday-Saturday. You can find the exact current opening hours on this page.
Visit the webshop
Do you not have the chance to come to Juelsminde? No problem! You can have the products delivered to your doorstep via the webshop. This is also your chance to check out the assortment before visiting the shop.
Since you are already in Juelsminde
It is not without reason that Juelsminde has been crowned the best holiday town in Denmark and harbour of the year. There is lots of nice maritime atmosphere here. On this page you can find inspiration for your trip to Juelsminde.
Destination Kystlandet © 2023