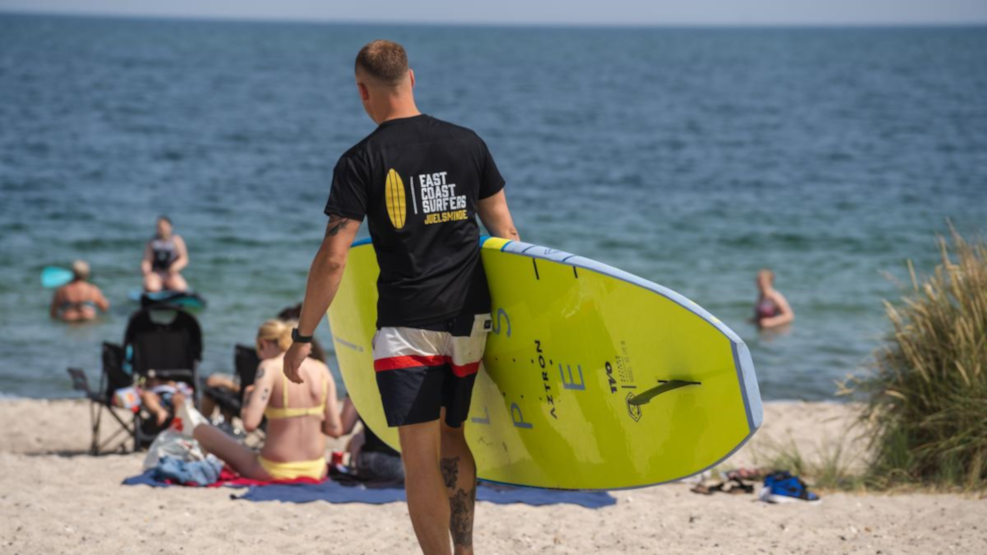 East Coast Surfers 7130
The beaches of Juelsminde are ideal for activities on water. At the marina you can try the popular Stand Up Paddling. Rent a SUP board, attend an introductory course or buy your own surf board in the store.
Rent a SUP board
You find this surf shop at a unique location at the marina in Juelsminde, next to the Great Beach (Storstranden).Here, you can rent paddleboards on an hourly or daily basis. The shop is connected to the beach so you do not have to drag your board far. You have a direct access to the calm blue waves of the ocean.
SUP board rental includes all the necessary equipment including wetsuit, life jacket, and paddle.
Learn to Paddle Board
If you still have not tried Stand Up Paddling, then this is your chance to become acquainted with the increasingly popular sport in the company of skilled guides.
East Coast Surfers offers introductory courses where you learn everything there is to know about the sports, equipment, safety, and the basic techniques. Afterwards, the course continues on water where you will experience instruction, training, competitions, fun and games.
An introductory SUP course is a fun and memorable activity for children and adults during the summer holidays in Juelsminde.
Visit the surf shop
In this little cosy shop, you can buy your own surfboard or equipment. Equipment and clothes is from well-known brands such as Brunotti, Aztron and Aqua Marine. If you do not find what you are looking for in the store, it can often be ordered to the store. So talk to the staff who are always ready to guide and assist you.
Open every day during the summer holidays
You can surf every day during the summer period. The shop is open daily in the weeks 26-32. So bring your family or friends to the marina in Juelsminde. If you wish to take part in an introductory course, please book in advance.
In the middle of one of Denmark's most popular marinas
The marina in Juelsminde offers lots of maritime atmosphere, life, and activity during the summer period, as soon as the sun is shining. There are several eateries at the waterfront and experiences for all ages. And the Blue Flag beach, the Great Beach, is only a few steps away from the marina.
Juelsminde is the embodiment of summer, holidays, and good times.