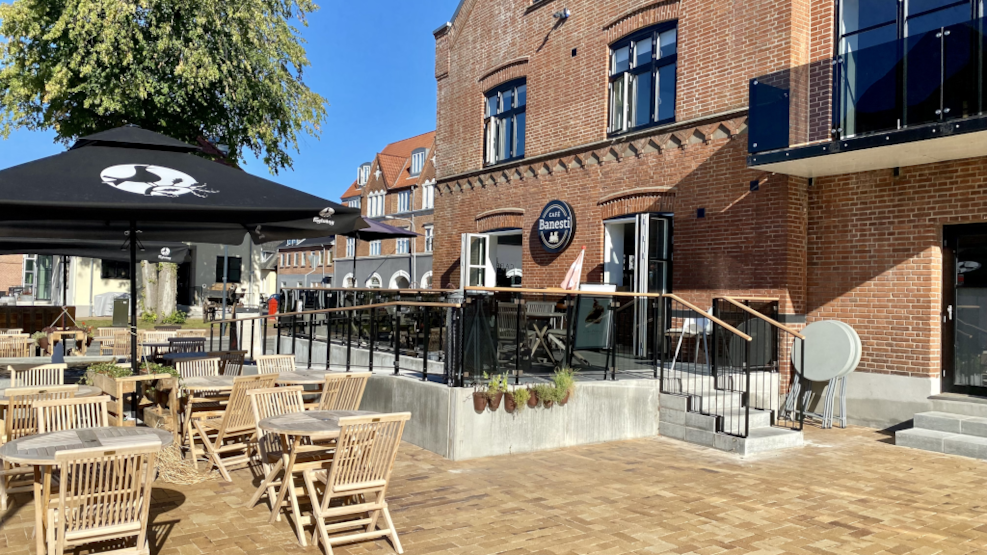 Café Railway Path (Banesti Café & Gastronomi)
This eatery with modern café dishes  and classic dishes for lunch is located in the centre of Brædstrup, in connection with The Nature Path Horsens-Silkeborg. The café is open for lunch, and in the evening it is transformed into a restaurant with delicious 3-course dinners.
Café Railway Path
In the old dairy at the town square in the renovated city centre of Brædstrup you will find this new addition to Brædstrups culinary selection of eateries. The café is decorated in a cosy and lively environment with fresh flowers, green plants combined with wood, and local art on the walls. During summertime, the café offers outdoor service with 50 seats on the patio and by the fountain under the big parasols.
The chefs work their magic
The kitchen uses fresh and preferably local ingredients and produces a selection of own vegetables at a local field. The kitchen is innovative and modern but rooted in the classic rural Danish cuisine. The café menu includes a series of modern and classic café dishes such as shooting star, burger, giant filled patty shells, salads, and sandwiches – always cooked with a twist so you are guaranteed a special taste experience.
You can see the full current menu at Banesti Café & Gastronomy´s website (In Danish).
Innovative gastronomy and craftsmanship are the basis of the dinner menu
Café Railway Path serves a delicious 2- or 3-course meal dinner. The menu is changed every two weeks. During the day, the chefs prepare tonight's menu. Meat is carefully braised to perfection, and vegetables are cooked with organic butter and quality olive oil. In addition to tonight's menu, the Railway Path also has a children's menu with a selection  of child-friendly favourites.
Coffee, cake & ice-cream cones during summer
The Railway Path serves freshly brewed barista coffee with home baked cakes all year. During the summer period, you can enjoy cold refreshments and big, delicious ice-cream cones with quality ice-cream from Kastberg. The cones are topped with Danish "guf" (meringue foam) and chocolate sauce. You can enjoy it on the patio on a warm summer's day.
Take away
Café Railway Path gives you the opportunity to pick up their delicious food as take away. The meals are packed in sustainable disposable containers, and is ready for you when you arrive.
You can see the selection of take away dishes on the website. Order take away by calling the restaurant at +45 22 46 87 40.
Pick up food for your party at Café Railway Path
At Café Railway Path they specialize in catering for events and private parties. The food is fresh and innovative, finding inspiration in cuisines from around the world. Food can either be delivered or picked up. It is arranged on plates in advance, making it easy for you on the big day.