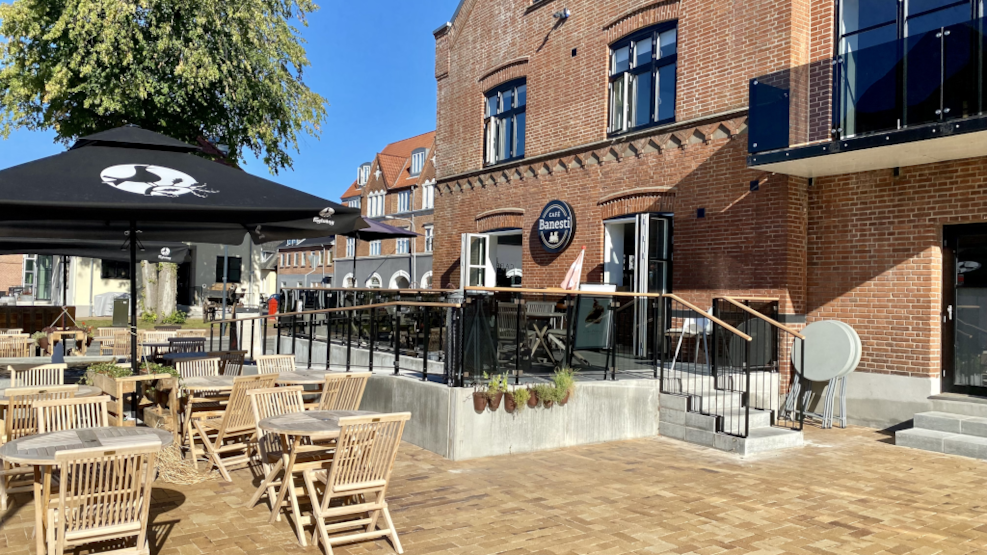 Café Banesti
In the center of Brædstrup, situated right by the train square, you can visit this atmospheric eatery offering delicious burgers and sandwiches. During the summer season, you can enjoy the food on the large terrace, where the café also features its own ice cream parlour.
Charming café in the town centre
Located in the old dairy building at the square in Brædstrup's renovated town centre, you'll discover this addition to Brædstrup's culinary offerings. The café is designed in a cosy and vibrant setting adorned with fresh flowers, green plants mingling with raw wood, and local artwork on the walls. During the summer, the café expands its seating area with 50 outdoor spots at café tables on the terrace and by the fountain under large umbrellas.
Popular temptations on the café menu
Café Banesti's menu focuses on familiar dishes that will make most mouths water. Don't expect elaborate five-course gourmet experiences; instead, you'll find a solid selection of great burgers, sandwiches, paninis, and nachos. This isn't just a run-of-the-mill grill bar – the chef's professional pride is too great, and efforts are made to use high-quality ingredients. Expect pancetta in the beef burger, fresh North Sea fish in the fish burger, or a sandwich with smoked brisket.
Café Banesti is a place for everyone, welcoming families and an ideal spot to bring the kids along. It's also a perfect place to refuel for hikers and cyclists on the Railway Path (Naturstien Horsens-Silkeborg).
You can view Café Banesti's full menu on this page.
Coffee, cake, and delicious ice-cream waffles in the summer
Banesti offers freshly brewed barista coffee served with homemade cakes. During the summer months, you can also indulge in large, delicious ice cream waffles featuring gourmet ice cream from Kastberg available at Banesti's ice cream parlour at the square outside the café. The waffles are generously filled with homemade treats & chocolate sauce and can be thoroughly enjoyed on the terrace by the fountain under the large umbrellas.
Takeaway options
At Banesti, you can opt for the delicious food as takeaway. The meals are packed in sustainable disposable service at the time of ordering.
You can view the selection of takeaway dishes on the website. Order your takeaway by calling 22 46 87 40.
Opening hours
Café Banesti's opening hours vary according to the season. It's open every day in the afternoon and evening. During the season, it's also open for lunch. You can check the current opening hours on Café Banesti's website.
Inspiration for experiences in Brædstrup
On this page, you can find suggestions for activities and experiences in this lovely trading town in Bakkelandet.
Destination Kystlandet © 2023