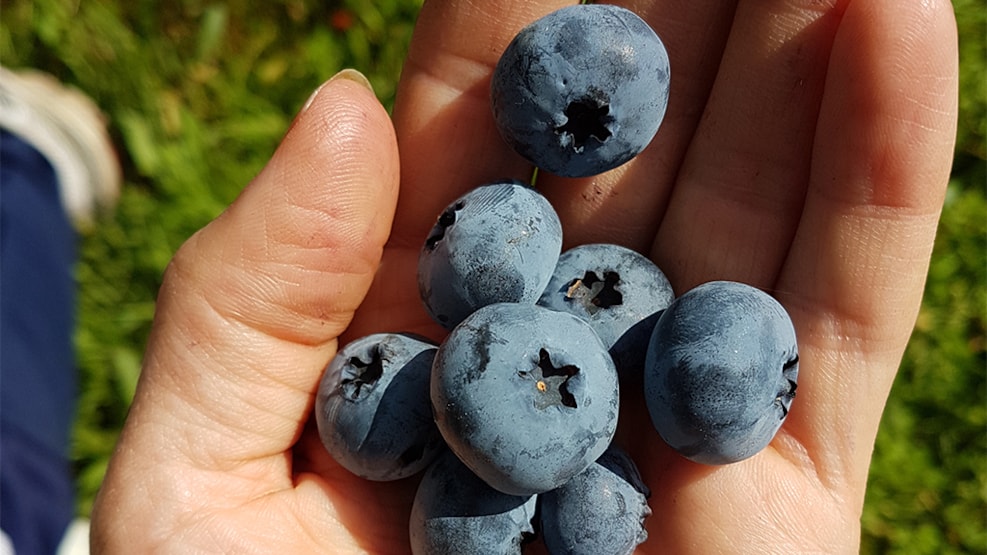 The Blueberry Farm (Blåbærgården)
In Tørring you can visit this farm with its own berry plantation. In the cosy rural surroundings, you can pick your own blueberries, raspberries, and blackberries. You can also visit the florist's shop and purchase products in the roadside stall outside opening hours.
Pick fresh and delicious berries
In Denmark, fresh berries are a harbinger of summer. They taste wonderful and are even healthy. The Blueberry Farm in Tørring has a large production of blueberries (as the name implies) but also raspberry and blackberry. There are four different sorts of blueberries – Blue Crop, Ama, Duke, and Herma. Each sort has different flavours and sizes. The sweetness and texture vary over the course of the season.  The berries are naturally in season during summertime so it is during this period that you can buy fresh berries.
Blueberries: July-September
Raspberries: July-September
Blackberries: August-September
You can choose to pick the berries yourself or buy berries that have been picked in advance and prepared for you. If you pick berries yourself, the price is 70 DKK per kilo. Payment is cash or via the Danish mobile payment app, MobilePay. You can see instructions on site.
The fields are open several times each week. You can see the current opening hours at Blåbærgården's Facebook page. If you wish to purchase pre-picked berries, then feel free to contact The Blueberry Farm in order to make sure that there are berries ready for you when you arrive.
The Blueberry Farm Flower Shop
There is also a flower shop in connection to The Blueberry Farm with a selection of bouquets, flowers for the home and the garden as well as flower decorations. There are many different types of dried flowers, and the florist will gladly put together a lovely eternal bouquet for you.
The florist happily takes orders. So, if you need cemetery décor, a bridal bouquet, or you have specific requests for the composition or colours of a bouquet, then feel free to contact the flower shop at +45 28 96 60 53.
You can also buy delicious Danish wine and gin in the store.
The florist's shop is open every Friday 2-4 p.m. or by appointment.
Furthermore, it is possible to use the self-service stall all week.
Spend the night at The Blueberry Farm
The Blueberry Farm gives you the option of sleeping in your own motorhome at the lot. Park the motorhome in the lawn so you have a good view of the beautiful nature of Uldum Marsh (Kær).
Find inspiration for experiences in the Tørring area in this guide.  
Destination Kystlandet © 2023