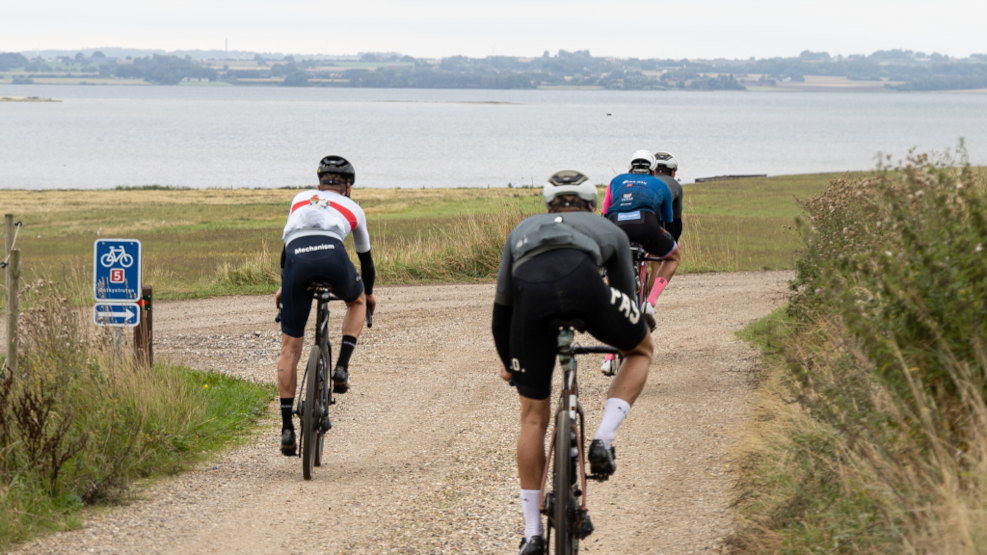 Adventure Cycling gravel events
Come along and try gravel cycling on the Eastern Jutland gravel roads. Adventure Cycling is a series of gravel races where there is room for everyone regardless of level and prior experience. So, get on your bike and compete for glory against the elite or simply join for the enjoyable experience of riding with your friends through lovely nature.
Gravel races for everyone
Gravel cycling has become a very popular type of exercise in short time. The combination of gravel roads, forest paths, and tarmacked roads offers great variation and a lot of exploration and entertainment. With its many forests, gravel roads, hills, and winding roads, the Eastern Jutland landscape offers perfect conditions for gravel cycling.
And this is the region where many of Adventure Cycling's gravel races take place. Adventure Cycling is a series of races that lead you through some of the best gravel terrain imaginable.
Adventure Cycling is for everyone. You can easily bring your inexperienced friend – and there is also room for the dedicated, top-trained, and competitive cyclist. Anyone can challenge themselves on the carefully selected routes.
Are you going for glory or hygge?
When you register for an Unsupported gravel race, you are asked to choose a category based on your preferences. If you are the competitive type, looking for a real race, then the Unsupported category is the right one for you. Do you want to enjoy the scenery and not focus too much on timekeeping? Then the Supported category may be the right choice for you. This category does not have many rules, and you can even attend on an electric bicycle if you wish. There is also plenty of opportunity to race and get the full gravel experience. In this category you will not have to worry about the fastest riders who started the race in advance. Along the route, there will be stations with food, cake, drinks and more. 
Spring Classic Grvl
This race is held on March 26, 2023 as a round trip in and around Odder. There are three different routes to choose from that all lead southwest of Odder towards Horsens Fjord through hilly, forested terrain characterized by manors and charming villages. The routes are 118, 67 and 40 kilometres respectively. So come along and test your strength or join for fun, enjoying the beautiful nature.
After the race, there will food and beverage available at the finish line and a nice Spring Classic medal for all participants.
You can read more on Adventure Cycling's website.
Nordic Grvl Grinder
Maybe you have seen bike races such as Paris-Roubaix or Strade Bianche on television? This race is Eastern Jutland's version of the challenging classics. You choose whether to ride 80, 140 or 200 kilometres on a route starting and finishin in Vejle.
The race is a challenge and a test of strength. There is no service on the route – only a few stations with water on the long distances. In an endurance race like this, it is advised that you have a high level of fitness.
Nordic Grvl Grinder is the unofficial Nordic championship of gravel cycling.
The race is held on August 26, 2023.
More gravel events
Unsupported organizes many more gravel races around Denmark. From the raw nature of the west coast to an exciting route across Jutland. Check Facebook for an overview of future events.
Destination Kystlandet © 2023