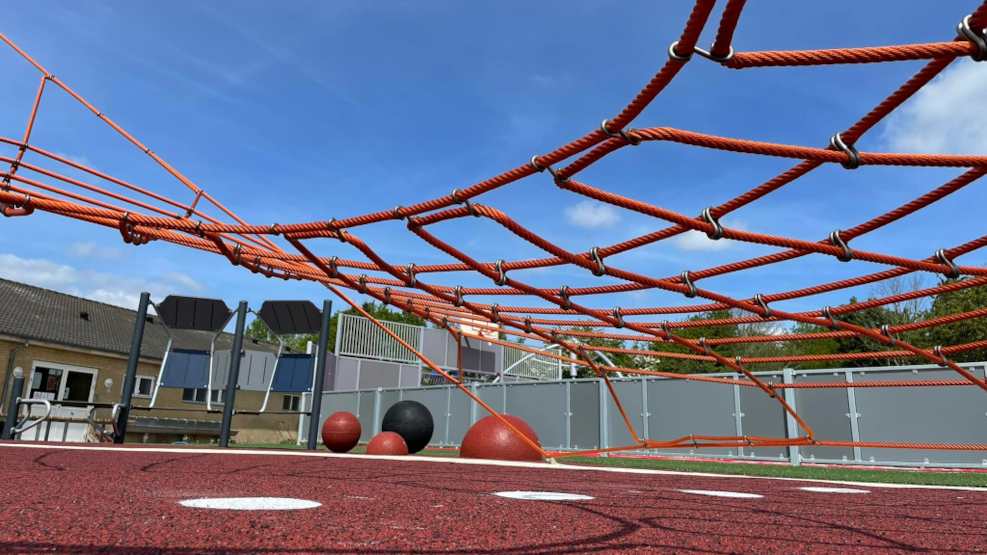 Activity park in Horsens (Sydbyens Bevægelsespark)
This activity park and playground in southern Horsens invites tourists and citizens to come and play games, get exercise, and have fun. Regardless of your age and physical capability, you can surely get the heart rate up, enjoy quality time together, training, and relaxation. With a wealth of different equipment and courses, you can spend a long time here.
Exercise, play and games all in one place
Sydbyens Bevægelsespark is an activity park that offers a bit of everything. Children can enjoy all the playground equipment such as swings, trampolines, a balance course, and activity hills scattered around the area. There is also a great opportunity to keep in shape with a running course, outdoor fitness equipment, an agility course as well as equipment for street workout and calisthenics. Furthermore, there are excellent conditions for ball games with two multi-purpose sports courts, a panna court, a football tennis/badminton court, and multi basket hoops.
You can also use equipment for physically challenged users. The park was created focusing on accessibility, and there is also a wheelchair accessible merry-go-round.
In other words, you will find equipment for all needs, interests, and age groups. The whole family can get together here for exercise, fun, and fresh air. And the group of friends can spend hours at the many courts and facilities.
Room for social intercourse and relaxation
Between all the fitness and playground equipment, there is plenty of room for relaxation. There are plenty of tables and benches where the mom and dad can sit while the children are blowing off steam. So feel free to bring your lunch and enjoy it in the cosy settings.
How to get there
Sydbyens Bevægelsespark is located in the part of town called Bankager. Set the GPS to Ternevej 83 – the home of the football club FC Horsens. There is a parking lot here from which you can see the activity park behind the clubhouse. If you want to travel by bus, you can get on bus 5 at the bus station and get off only 150 metres from the park on Ternevej.
Other playgrounds in the Coastal Land
There are many impressive free playgrounds in Horsens and the rest of the Coastal Land. On this page you can find inspiration for your next excursion with the kids.
Destination Kystlandet © 2023