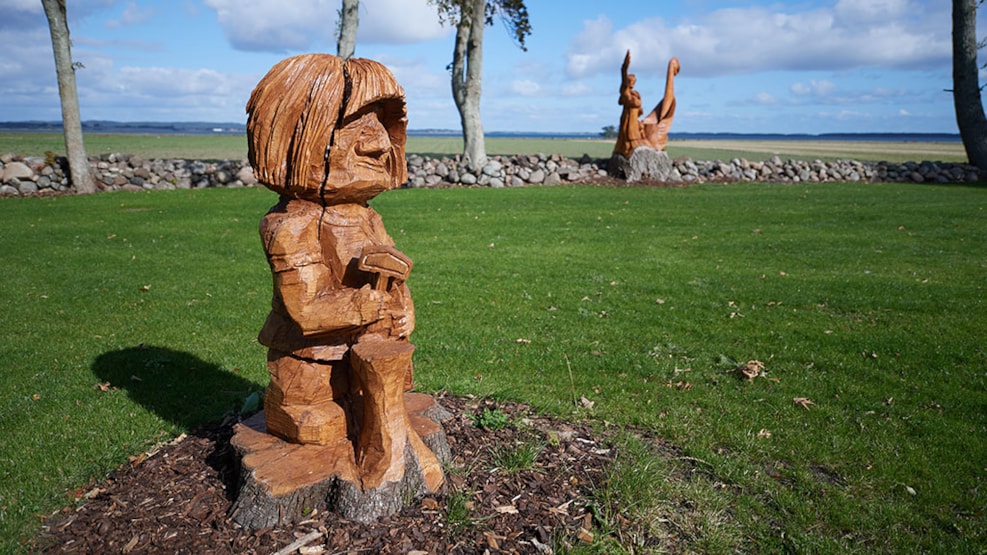 An active oasis at Livsstilsefterskolen Hjarnø
When visiting the island of Hjarnø, also visit Livsstilsefterskolen Hjarnø. You can enjoy your picnic in quiet surroundings in its fine sculpture park. And the children can frolic in the school's football field.
Livsstilsefterskolen Hjarnø
In the middle of the island Hjarnø, you find this continuation school for children in years 8 to 10 that focuses on health and well-being. The school was recently renovated and offers fine facilities both inside and outside. When the students or tenants do not use the outdoor facilities, you are more than welcome to spend some time in the area and use the courts for games and play.
The sculpture park
Behind the continuation school, you find a cosy oasis, where you can enjoy your packed lunch at the tables and benches. So, just bring your picnic and take a short break from the hike around the island. The sculpture park is inspired by Nordic Mythology and features several wooden sculptures. The open land lends you a good view of the surrounding fields and Horsens Fjord.
Get up your heart rate on the multicourt
Children and childish souls can build up a sweat on the multicourt of the continuation school. You can play football, handball, basketball and hockey. The course has artificial turf and is lit which means that it can be used all year round - even in the dark.
Next to the multicourt, there is a grassy football field.
You are always welcome to use the courts - just remember to bring a ball on your visit to Hjarnø.
There is also a campfire site in the grounds that you are free to use when it is not used by the students.
Explore Hjarnø
Livsstilsefterskolen is located in the eastern end of Hjarnø's main street, Hovedgaden. This is near the island's café and campsite as well as the coast. When hiking around the island, the school is an obvious place to stop. The hike around Hjarnø is about 7 kilometres and can be completed in an hour and a half.
Getting to Hjarnø to enjoy the cosy island atmosphere and beautiful nature is easy. There are more than 30 ferry departures every day. Read more about Hjarnø on this page.