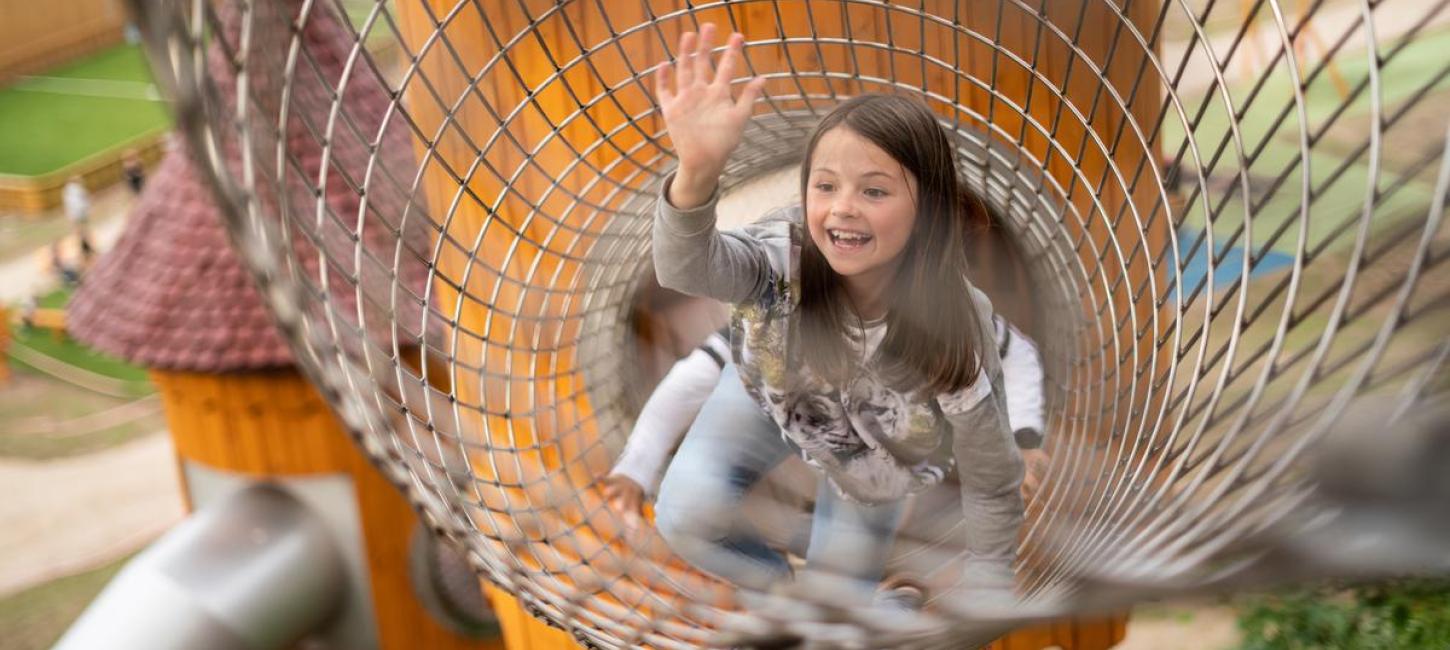 Family dream on a silver platter
With a nature play park, crab racetrack, sandy beach and legendary ice cream - in addition to places to eat at the inviting marina - Juelsminde just needs one single day to create loyal followers.
Towards new heights in the Nature Play Park
Even before you have arrived, you get a glimpse the tower on Odelsbjerget, and you have no doubt that you are on your way to a nature play park beyond the usual. Just the thought of having to climb up the 8-metre-high tower and then slide down gives the children in the back seat butterflies in their stomachs.
Park in Juelsminde Nature Play Park's own car park, and then see if you can keep up when the children rush off to explore the toy ship Julle, balance on the Tarzan course, wobble, swing, etc. Buy a cup of coffee or a snack in the shop when you need a rest, for example, at the top of Odelsbjerget, where there is seating and an excellent view of Juelsminde town and the coast.
Lunch and crab racing at the marina
Head towards the town and the waterfront when you are hungry. You can easily walk there, but it is now nice to have the car close by when you later go home with tired children, and with free parking on the town's main street, Odelsgade, it couldn't be more convenient.
Stroll down Odelsgade, which is full of shops,
that inevitably make you slow down and send long glances in through the door before the children pull you along down towards the harbour. If you just want to get to the harbour and the beach as soon as possible, you can also choose to park at the opposite end of Odelsgade, where it meets Rousthøjs Allé, or simply on the street named Havnen.
With a view of pleasure boats gently rocking in the water, you can each order your favourites at either På Havnen or Restaurant Møllers. Once the fast eaters are done, they can compete on the crab racetrack right next door. Catch a crab with a line, clothes peg and bait in the form of a little Danish salami or a mussel, then set them free on the crabbing jetty, and see whose crab comes first.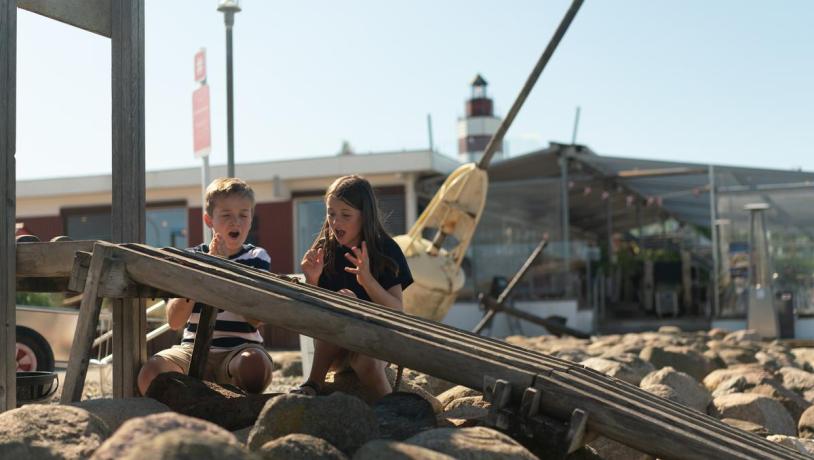 Photo:Destination Coastal Land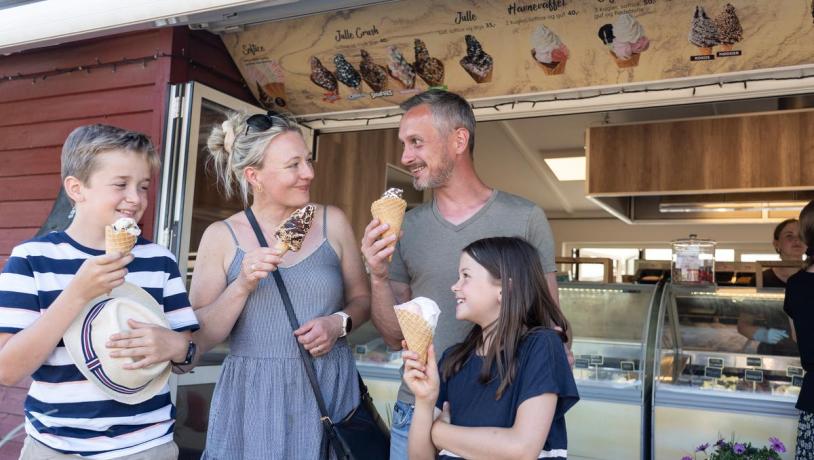 Photo:Destination Coastal Land
Beach trip and ice cream
Once the rest of the family has had time to let their food go down, it's time to head for the beach. Storstranden is a wide, sandy beach with calm water, where buckets, spades and watering cans can be exchanged for several minutes of sunbathing. A ball for playing on the grass area is also a good thing to bring for the restless family members.
If the weather is on the cool side, a walk in the fresh sea air and beach activity #1 in the form of stone-throwing is a good way to work up an appetite for a ice cream at Havnens Café & Isbar.
Here they have used the same recipe for guf (meringue foam) for 40 years, which has made the pink topping a bit of a celebrity in the area.
If children (and adults) are not yet completely drained of energy, you can grab a game of mini golf at Juelsminde Minigolf, before you buy freshly fried fish meatballs and freshly smoked fish at Juelsminde Fisk, so you have an easy dinner when get home.